Articles
3 Ways To Improve The In-Store Shopping Experience
In the digital age, brick-and-mortar retailers are hustling to compete with the convenience of ecommerce. Read on for a quick look at three trends that are guiding retailers in response to changing customer needs, attitudes, and practices.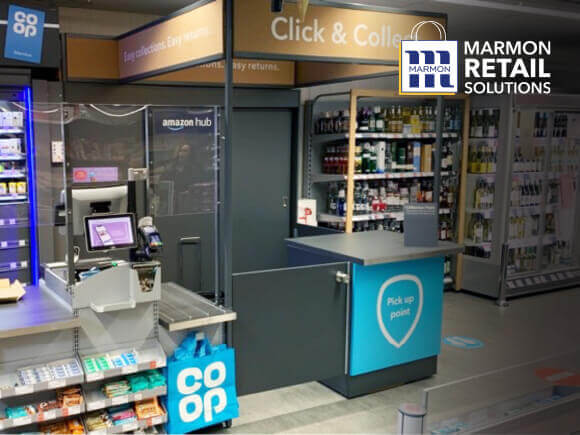 In the digital age, brick-and-mortar retailers are hustling to compete with the convenience of ecommerce. Those having the greatest success are focusing on new ways to improve the in-store shopping experience for customers, enticing them to purchase in person.
There are many ways to creating a great in-store experience, but some are more effective and easier to implement. Here are three ways you can improve the in-store shopping experience today.
1. Transform in-store to offer what online can't
In a time of online everything, it's becoming harder for retail stores to find their edge. Trends are emerging that are uniquely suited for brick-and-mortar stores, and retailers are noticing. Applying a more human-centric approach to retail can be the ticket to bringing customers back into the store.
It starts with offering a sense of community in-store. Safe and inclusive spaces are being developed within store environments to increase the feeling of togetherness and including other shoppers.
Stores are seeking out creative ways to promote their status as a "community hub" or destination for consumers.
Given the nationwide shift to hybrid and flexible work schedules, businesses that have spaces for socializing and working offer value for customers beyond just products.
Community services at supermarkets and large retailers encourage more foot traffic to the store while promoting shopper engagement. For example, earlier this year, Walmart hosted Mother's Day markets across 32 Walmart Supercenters, transforming its outside spaces into free craft markets for families to gather and participate.
Other retailers are turning to health and wellness assistance to draw in shoppers. Inspired by the recent rise in physical and mental health awareness and initiatives, many brands have started to increase their health offerings.
CVS has expanded their health services to now offer mental health resources, including therapy and counseling. Now, customers can shop, pick up prescriptions and get the help they need all in one location. Other brands such as Walmart and Walgreens have also joined in the expansion to offer mental health services in their stores. This comes at a time when customers are seeking more access to resources to help battle addiction, depression, and other mental health issues.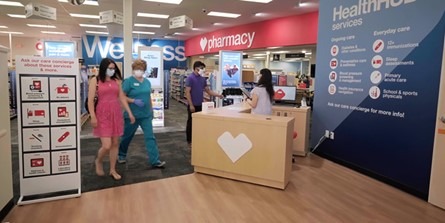 This extension into community hubs and health resources has pushed brands into becoming more creative with the planning of their store spaces and displays. Eden Retail Smart Solutions offers customized retail fixtures that are designed to make shopping easier and more fulfilling for customers, while making the process from development to manufacturing simple and seamless for brands. Eden excels at creating retail environments that are inviting and easy to navigate, ultimately driving sales and return visits.
2. Focus on conscious curation in your store
Wasteful consumerism practices have been under fire recently by Millennials and Gen Z groups, and environmental issues are driving awareness among many other influential groups. Because of this, retailers are working to consistently offer products and promote practices that align with their customers' values.
It's true, 75% of Millennials are willing to pay more for an environmentally sustainable product while nearly 70% of consumers in the U.S. and Canada think it is important that a brand is sustainable or eco-friendly.
Recycled and sustainable packaging is a consumer favorite in many retail verticals. Health and beauty products offered in recycled plastic or in reusable/recyclable aluminum containers positively contribute to the circular economy .
Fashion and lifestyle brands are also on board with sustainable solutions. Outdoor clothing brand, Patagonia, uses recycled materials in 87% of their line of products. Fashion brand Calvin Klein uses recycled materials in about 74% of its packaging.
One of the main areas where grocers are promoting sustainability is right in the bulk food aisle. By eliminating product packaging, bulk food solutions save resources like oil, trees, water and land, and reduce CO2 emissions. Of course, bulk distribution also reduces the waste associated with product packaging.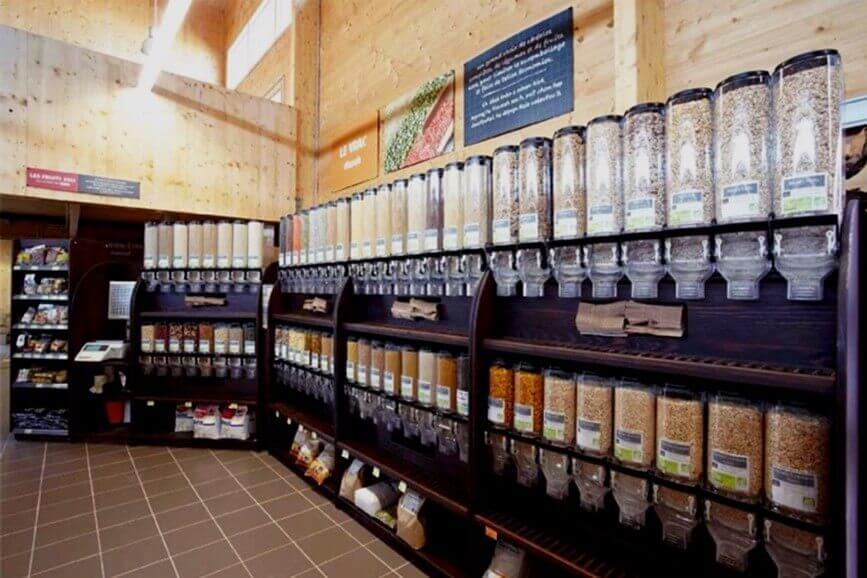 Consumers are not only jumping on the bulk food train for environmental reasons, but cost-savings as well. A study conducted by the Bulk is Green Council found that consumers can save a staggering 88% per year by purchasing food in bulk. Because bulk purchasing gives shoppers the ability to only purchase what they need, much of a home's food waste can be trimmed, which also helps to reduce cost.
Retailers all over the world can join in on this sustainability initiative by incorporating innovative bulk food solutions into their space. Trade Fixtures provides merchandising bins, fixtures, displays and bulk department supplies that draw in customers looking for both convenience and an environmentally friendly shopping experience.
3. Reduce friction to create a seamless in-store experience
Immediacy is one of the biggest assets for a brick-in-mortar retailer, and it's important that stores continue to make good use of the strength. While customers have become comfortable with the transition from browsing to purchase while shopping online, guiding customers through the in-store path-to-purchase seamlessly and effortlessly is also critical.
Bridging the gap between online and in-store retail, Eden Retail helped British retailer Co-op design and build in-store click-and-collect stations in their lab store trials. The stations were designed to inspire impulse sales, something that had been lost due to shopping restrictions related to the COVID-19 pandemic.
With a quick and precise approach, Eden studied and strategized a custom solution for Co-op that worked seamlessly for both the consumer and the store.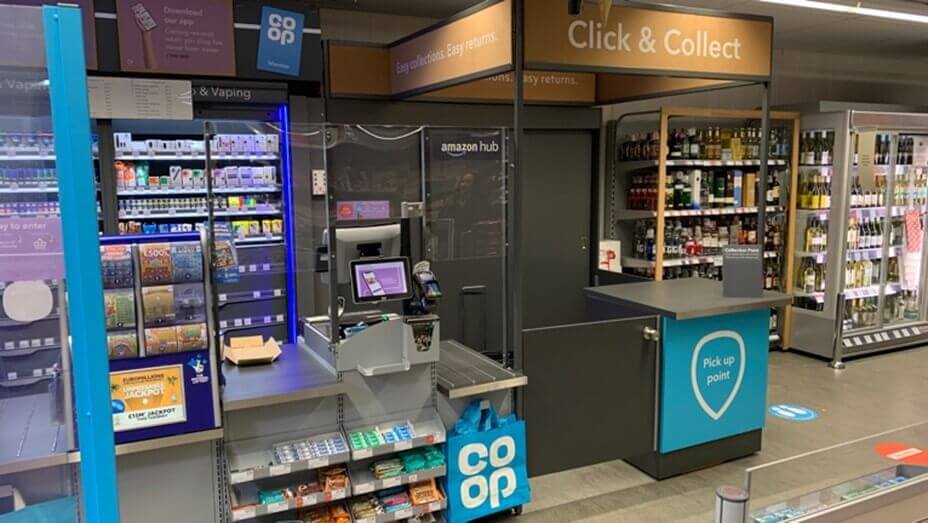 In only 5 week's time, Eden researched, designed, engineered, installed and tested 3 click-and-collect stations in Co-op stores.
The first three of the planned lab stores are now performing well and are supplying valuable data that will guide development in the remaining Co-op locations.
Marmon Retail Solutions is here to help you build total retail solutions that improve profitability and the customer experience – both today and as you build the store of the future.
For more information solutions from Marmon Retail Solutions, visit www.marmonretailsolutions.com or watch our latest webinar Reimagining Retail: Uncovering Paths to Click & Collect Optimization.
Share This