Articles
Store Perimeter Sales Are HOT: How Retail Pusher Trays Can Make Them Even Hotter
Learn how retail pusher trays create a better shopping experience, save on labor, and help prevent shrinkage.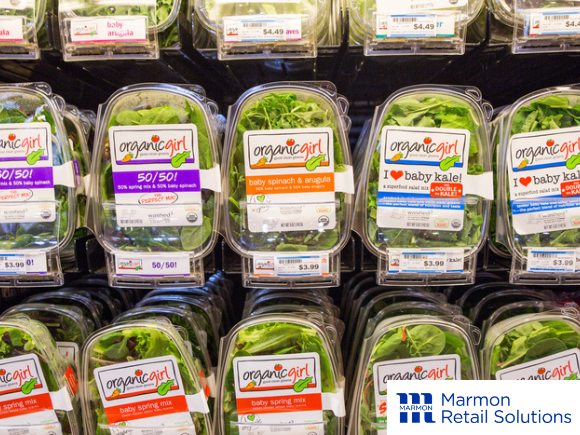 Predictions abound for how brick-and-mortar grocery stores are going to change. But for the foreseeable future, there's at least one constant in a sea of change: The performance of your store perimeter is crucial.
Learn below how one particular kind of store fixture – pusher trays – can boost that performance by creating a better shopper experience, spotlighting brands more effectively, and helping your store operate more efficiently.
Why the Perimeter is So Important: Perishable Essentials Remain … Essential
The shopper's need for items on the perimeter – in particular perishable food like fresh produce, eggs, dairy, and meat – has long been considered a crucial draw for getting people deeper into the store and increasing sales. And that need won't disappear any time soon, even with the rise of online shopping.
For example, the Supermarket News 2022 Fresh Foods Trends Report reports that 70% of retailers and wholesalers said perimeter sales increased in the past year, and almost the same percentage think those sales will continue to increase in the coming year.
Moreover, for those who plan to increase store space for perishable items, nearly 40% said the increase will also lead to a decrease in center store space.
There's also the growing consumer awareness of the perimeter's importance. Articles like this one from U.S. News & World Report, "8 Strategies for Maintaining a Healthy Relationship With Food," are extremely common today. More specifically, they routinely suggest "shopping at the perimeter" to find fresh, whole foods like fruits and vegetables.
Using Effective Fixtures Can Help Create an Exceptional Store Perimeter
With so much riding on your store perimeter today, it's now more crucial to take steps that will help improve its performance. According to Bob Johnson, grocery fixture expert and Senior Vice President at Retail Space Solutions, retailers shouldn't underestimate the importance of the right fixtures.
"Shoppers have so many options today. If you want to build and maintain customer loyalty, you've got to provide a great customer experience. And your fixtures can play a key role in that, especially in the strategic perimeter."
In fact, Johnson points out a range of potential benefits from effective fixtures. Examples include:
Helping shoppers find what they want faster and in the process keep them returning.
Allowing the branding of packaged products to shine through and encourage purchases.
Enabling your employees and your overall operations to function more efficiently.
Optimizing product rotation and preventing loss from spoilage, product expiration, and theft.
Fixture Focus: The Profound Potential of Pusher Trays
With the help of Johnson's insights, let's take a closer look at how one specific fixture – pusher trays – can help grocers achieve benefits like those above. But first, let's make sure we understand pusher trays.
What is a Pusher Tray?
A pusher tray is a type of merchandising system typically used in the refrigerated and frozen food sections of retail grocery and mass merchandiser stores. The pusher tray hangs either on a grid or bar at the back of a cooler case. Its primary function is to keep perishable grocery products front-faced and conditioned 24/7.
The "Win-Win-Win" of a Pusher Tray System
Because they're able to solve so many common challenges, Johnson says, "Pusher trays can actually create a win-win-win – for the shopper, for the brands, and the retailer."
How Customers Win with Pusher Trays
Pusher trays present items in an attractive, highly visible fashion, making it easier for shoppers to spot what they're looking for quickly.
And thanks to the pusher tray's ability to automatically push items to the front of a display, the items themselves are easy to access. That means there's no need for deep reaches or awkward grabbing.
Johnson says shoppers have high expectations for a store experience. "People are busier today and often want to be in and out of a store as fast as possible. The way pusher trays function can help them do that."
How Brands Win with Pusher Trays
A lot of time and attention goes into how brands design their labels and packaging. Pusher trays prevent items from lying on their side and being difficult to see. And in the process, they help maximize the power of a given product's branding.
"Pusher trays, especially those with a clear lens in front," says Johnson, "let the brands be the heroes. The fixtures themselves are in the background quietly doing their job," says Johnson.
How Retailers Win with Pusher Trays
As customers and brands win, so too does the retailer. In fact, the power of a pusher tray system generates a positive retailer ripple effect that encompasses everything from more efficient employees to less product spoilage:
Generate labor-saving benefits. A well-functioning pusher tray automatically moves items to the front and greatly minimizes the need for employees to front-face products.
"I've had grocery store employees tell me that their front-facing tasks went from an hour or more down to just a few minutes because of pusher trays," Johnson says. "That is a huge benefit, especially when you consider the unprecedented labor shortage that retailers are facing today."
And with that extra time, employees can, for example, start restocking right away to make sure product is readily available for customers.
Create additional operational efficiencies. Speaking of restocking, the fairly uncomplicated design of pusher trays not only makes them relatively easy to install but also makes them easy for employees to use.
"The trays can be conveniently pulled out for quick and orderly re-stocking, which enables a critical task to be done much more efficiently," says Johnson.
On top of that, the design of pusher trays enables a more efficient use of cooler space compared to other shelving alternatives. And that means giving higher visibility to more product selections.
Reduce various forms of grocery shrinkage. Because pusher trays are designed to automatically move items to the front, customers are more likely to select older dated products first and that helps maintain ideal stock rotation.
Plus, high-quality pusher trays also create airflow channels that ensure appropriate refrigeration.
Pusher trays can also hold what some grocers call a "case-plus" amount, which means the trays are large enough to hold more than a typical case. Johnson explains that this makes it less likely for extra items to "get lost in the backroom abyss," where they become more susceptible to misplacement, spoilage, and employee theft.
What to Look for in a Pusher Tray Supplier
With advantages like those described above, long-lasting, great-functioning pusher trays can yield an impressive ROI. However, Johnson cautions retail operations leaders that they need to select a pusher tray supplier with care.
"If you're the person who gave the go-ahead for these fixtures to be put in hundreds of stores and they end up starting to malfunction in a few years, the buck is going to stop with you," he says.
According to Johnson, here are some important considerations when looking for a pusher tray supplier:
Can you get testimonials from satisfied clients? Be sure to ask about references. You should be able to talk to their clients, and when you do, inquire not only about service but specifically about the durability of the fixtures themselves. High-quality pusher tray systems should easily perform great for five to ten years, if not longer in some cases.
Are you forging a long-term relationship? Try to get a sense of what would happen if you have trouble with your pusher tray system. You want a supplier who will readily be part of the solution – rather than leave you on your own. This also extends to questions about their warranty and return policy. Will they take fixtures back?
Are the fixtures simple to use? Look for pusher tray systems that aren't overly engineered. Not only should they be straightforward for the customer to use; they should also be designed for the types of workers who will likely be engaging with them the most.
Do they provide fixtures that fit with the times? The grocery store is constantly evolving. There are salad products today, for example, that weren't even an option five years ago. You want a supplier who pays attention to market demand and provides options that reflect those demands.
Be More Effective by Keeping the Bigger Picture in Mind
You've just learned a lot about the potential of pusher trays. But effective fixtures like those are only one important aspect of the overall store experience. To maximize the potential of any fixture, you ideally want to integrate them with an approach that, for example, also addresses:
Custom retail merchandising throughout your store, which is critical for the ever-evolving in-store experience, from the impulse buys at the check-out counter to your bulk food section to the milk and eggs displays at the back of your store.
Efficient backroom processes that help get stock out front more efficiently AND create better organized systems for the click and collect option.
Improved remodel and new-build programs that greatly reduce your points of contact, help you meet changing customer expectations, AND empower you to overcome rising costs, longer lead times, and supply chain interruptions.
Marmon Retail Solutions provides integrated products and services that allow your retail improvements to be carried out more strategically, more cost-effectively, and ultimately more successfully.
If you'd like to learn more about how these types of retail solutions can work for you, reach out to Marmon Retail Solutions today!
Share This