Articles
Four Ways to Make Great Impressions with Your Retail Front End – And Drive Shopper Loyalty
The first impression at retail can be the most important one a business makes. Meeting customers' expectations for the in-store experience requires commitment and consideration. From entryways and breezeways to checkout.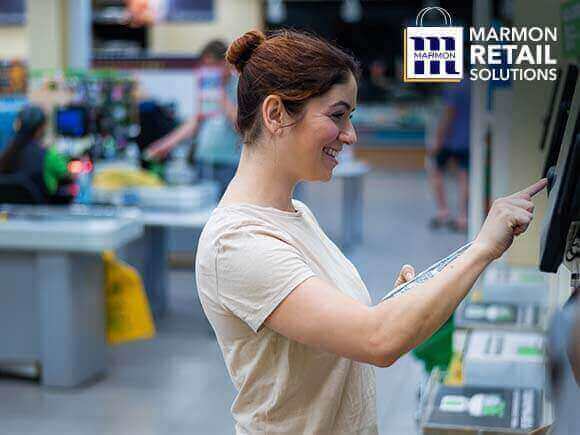 It takes just a moment for a consumer to form an opinion about your brand. Which means the first impression at retail can be the most important one a business makes.
Decades of research has established that a store's appearance influences a variety of consumer behaviors, ranging from how long shoppers stay in a store to how much they spend. A tidy and accommodating environment in the front end of the store invites consumers to stay longer and encourage them to return; unkempt paths to entry can create negative opinions of a business and deter shoppers from coming back.

Small things like organized inventory, attractive spaces, and clear signage can have a big impact on the bottom line.
64% of shoppers have walked out of a store without purchasing anything in the previous six months because of disorganization or a poor physical appearance.
Meeting customers' expectations for the in-store experience requires commitment and consideration. It's important that retailers have the right solutions in place to develop customer loyalty and drive sales. Here are some of the ways that Marmon Retail Solutions can help.
Site Furnishings Set the Tone
Whether it's a conscious decision or a subconscious thought, store entryways establish for the customer what they can expect from their shopping experience. The impressions created from those very first steps can translate into big advantages for stores. It's important for retailers to capitalize on that with an inviting atmosphere and attractive site furnishings. Perfectly on-brand trash and recycling containers, benches and planters reassure shoppers that you care about them and their shopping experience. They also help deter littering and keep your stores clean.

Entryways and breezeways also provide an opportunity for stores to telegraph how seriously they take sanitation and customer safety. Today, many customers expect to see hand sanitizer dispensing stations and sanitizing wipe holders the moment they enter a store.

Commercial Zone offers a full line of durable site furnishings that elevate retail spaces while harmonizing with a brand. Visit CommercialZone.com to see all of its innovations, like the PolyTec™ Clean Solutions that include hand sanitizer mount, wipes container holder & glove/bag dispenser built directly into the lid.
Clean, Well-Functioning Shopping Carts Drive Loyalty and Sales
It's happened to all of us at some point: grabbing a shopping cart with a broken wheel, an annoying squeak or clumsy handling. Clean, attractive, well-functioning shopping carts can make a big difference in how positively a shopper views a retail brand, while poorly functioning carts can cause frustration and even abandonment by customers.
A single bad experience with a cart can deter customers from returning to a store.
Research from Marmon Retail Solutions company Unarco has shown that 52% of customers spend less due to bad cart wheels — as much as 64% less — and 54% of shoppers would switch retailers if they routinely encountered cart problems. These issues are astoundingly common: 88% of shoppers encounter them regularly, and 17% of customers have decided to shop somewhere else because of them.
Keeping carts tidy, updated and functioning properly makes for positive brand experiences for the customers and store employees. Suppliers to some of the world's largest retailers, Unarco specializes in shopping cart technology, with U.S.-based manufacturing that ensures consistent production quality.

Unarco also offers an industry-leading cart remanufacturing service. The company's end-to-end repair and refinishing process creates a like-new cart made from 95% recycled or reused materials, and can save retailers up to 30% on the price of their fleet. For more information on its dependable shopping carts, visit unarco.com.
Click-and-Collect Should Be Quick and Seamless
Many busy shoppers are turning to Click-and-Collect because they're in a rush or want to minimize their time in the store. It's important, then, to clearly mark Click-and-Collect pickup spots. Whether in-store or curbside, having clear, well-placed signage is essential to directing shoppers where they need to go and how the process works.
Well-managed pickup stations offer convenience for shoppers, cultivating good impressions that keep them coming back.
The retail experts at LA Darling help stores implement and optimize their Click-and-Collect services. LA Darling's customized solutions include everything from signage and picking stations to complete turnkey staging areas. They can work with any space to create attractive, organized staging centers to more accurately fulfill Click-and-Collect orders — cost-effective ways to easily access orders while maintaining the clean and orderly space shoppers expect. These solutions also provide space for additional advertising or messaging.
Eden can also help retailers with every step of designing, prototyping and manufacturing signs. Eden specializes in creative design for merchandising and fixtures, and can assist in layout-improving flows for departments and complete stores. Attention to detail sets both LA Darling and Eden apart.
Make Checking Out a Pleasure
The customer checkout area is often the first thing customers see when they walk into a store, and it's the last thing they interact with prior to leaving. A clean, well-organized system provides something to look forward to at the end of the trip — while slow or disorganized checkout lanes can cause shoppers to spend less or even abandon their shopping trip altogether.
Understanding that the impressions given by the checkout area can help set the tone for the entire shopping experience, the strategic checkout solutions from Marmon company LA Darling are designed and built to provide inviting entrances with the promise of efficient checkout. The systems integrate checkout merchandising solutions that move and inspire shoppers. The paths to these checkout areas also provide retailers prime opportunities to drive impulse purchases. One of the most successful models in all of brick-and-mortar is Walmart's "Action Alley," the square isle that goes around the perimeter of the store and features discount bins, special offers and sampling displays. These gondolas placed along "Action Alley" are useful and time-saving tools for customers since it lets them simply grab and go as they approach checkout.
Collaborate with Experts
Optimizing the shopping experience is easier said than done. Many times, store managers know what they need to do, but don't have the time, staff, or the understanding of where to start that they need to execute their vision.
When it comes to the front-end of your store, attention to detail pays dividends.
That's where Marmon Retail Solutions is your resource. Marmon is a valuable partner to many retailers both nationally and locally, and it tailors its services to each stores' individual needs.
Learn about the full portfolio of proven font-end solutions offered by Marmon Retail Solutions at marmonretailsolutions.com.
Share This