Articles
More Selection, Affordability, and Convenience: Global Grocery Trends for 2023 and Beyond
Get research-backed insights to help you understand the grocery trends for 2023 and beyond.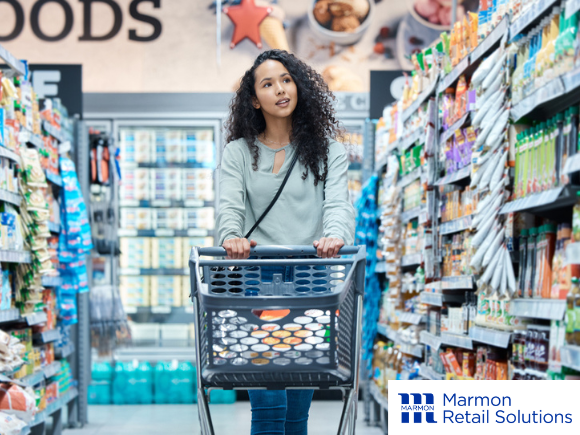 Retail grocers around the world have been weathering a storm of disruptions in recent years. But despite challenges with everything from inflation to labor shortages to supply chain unpredictability, this retail channel is finding ways to adapt and even thrive.
So where are we headed for 2023 and beyond? Find out about the global trends for the grocery channel with helpful insights and examples from retail consultant Jack O'Leary, Head of Advisory, North America, for Edge by Ascential.
Global Sales Projections: E-commerce Expanding (and Pushing Innovation)
Based on data from Edge by Ascential, O'Leary reports that e-commerce sales for the edible grocery category are projected to grow at a 9.7% compound annual growth rate (CAGR) for 2022 to 2027. Meanwhile, projections for store-based sales indicate a CAGR of 3.5%.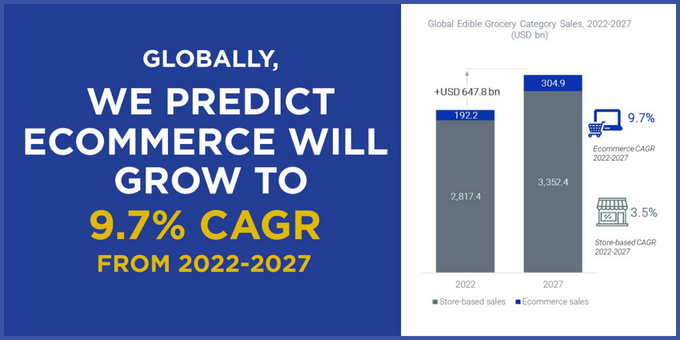 As the graphic illustrates, brick-and-mortar sales still make up the vast majority of this category.
Yet even with the inherent challenges of selling perishable items online, O'Leary says when it comes to retail innovation, "E-commerce is really leading the way for grocery selling on a global basis."
Top Players Positioned to Stay on Track for Continued Growth
As for projected sales performance in the coming years, the most recognizable names in retail grocery will continue to experience growth (see graphic below).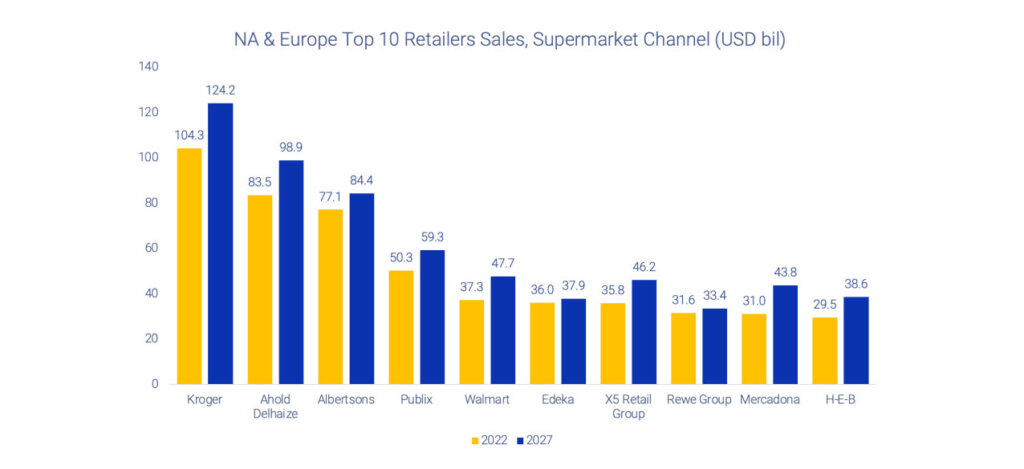 O'Leary says these retailers will remain strong thanks to their diversity of banners and their ability to invest in new formats. Moreover, the influence they wield will "really shape the future of how this channel is shopped."
Strong Performance of Regional Grocers Worth Noting
The grocery store giants aren't the only players with promising performance numbers. O'Leary says regional players like WinCo Foods, Hannaford's, and Hy-Vee "have some distinct advantages" that are helping them outperform typical channel averages.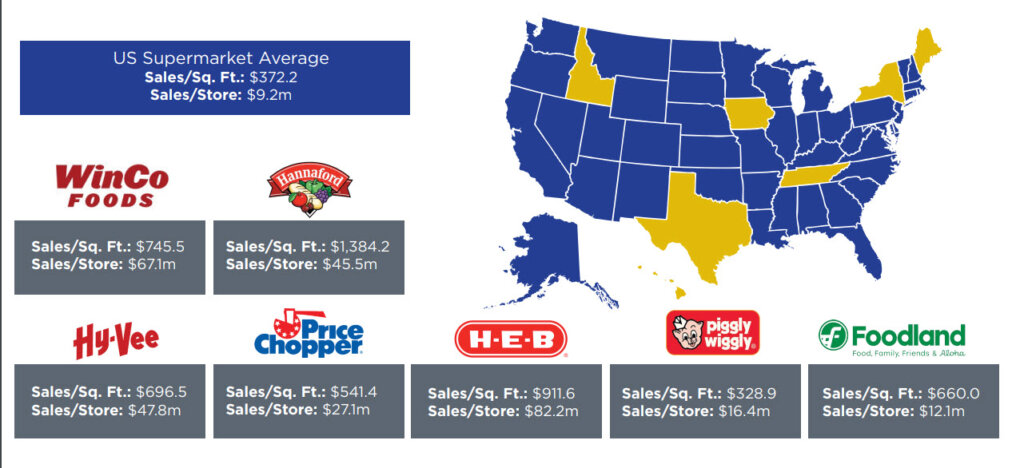 When looking for examples of best in class grocery retailing, O'Leary says, "Don't neglect or look away from some of these regional powerhouses."
Major Consolidation Could Have Significant Effect on Grocery Sector
Retailer consolidation could play a huge role in shaping the grocery landscape, especially in North America, with a Kroger-Albertsons merger currently in the works.
Combined, these grocery behemoths operate more than 5,000 stores. Company executives hope to finalize the merger by 2024.
According to O'Leary, if the deal goes through, the merger will have major ramifications for the competitive grocery sector. Consider the potential numbers: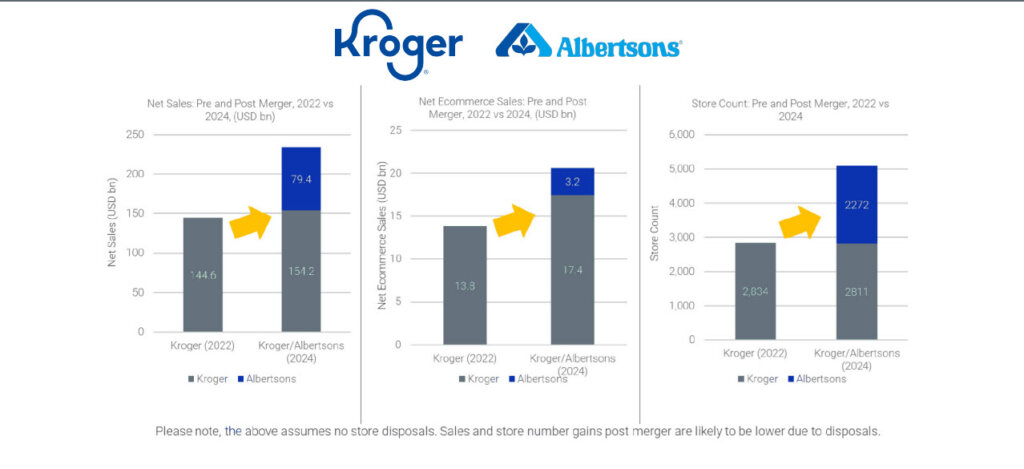 Key Initiatives: Grocers Tailor Offerings to Consumer Demands
Let's move from the overall grocery landscape to major retailer initiatives. O'Leary highlights three areas of consumer demand that help characterize where this channel is headed.
Demand: More Plant-based Consumption
O'Leary says more and more retailers are tailoring their formats to meet the growing consumer interest in sustainability and health and wellness.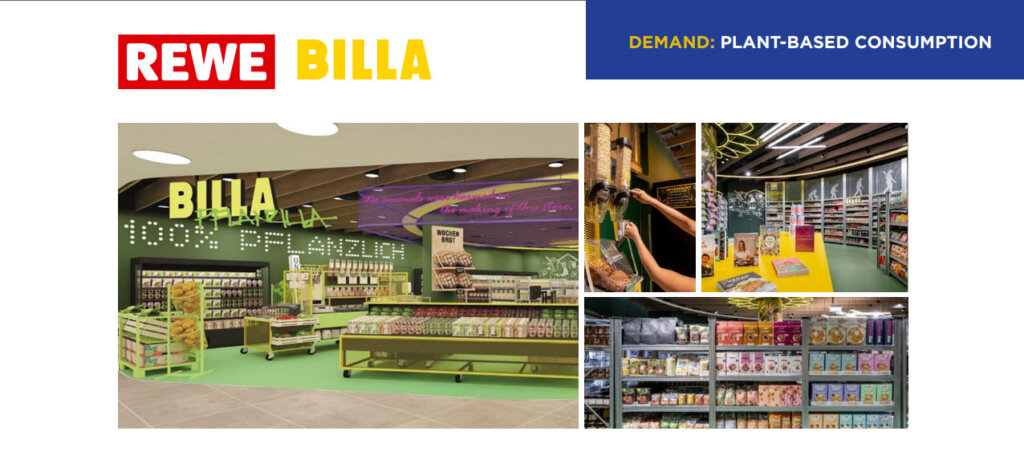 A good example of this is a new 200-square-meter store concept launched by the supermarket chain BILLA in Austria. Called BILLA PFLANZILLA, the store is dedicated solely to plant-based products and boasts more than 2,500 SKUs. (Billa is a subsidiary of the Germany-based REWE Group.)
Demand: Greater Cost Savings
An extended high inflationary period has also prompted many retailers to expand private label selections and thereby offer more products at a lower price point.
"Retailers acknowledge that there are profitability advantages of extending more private label out and also consumer affinity advantages," says O'Leary.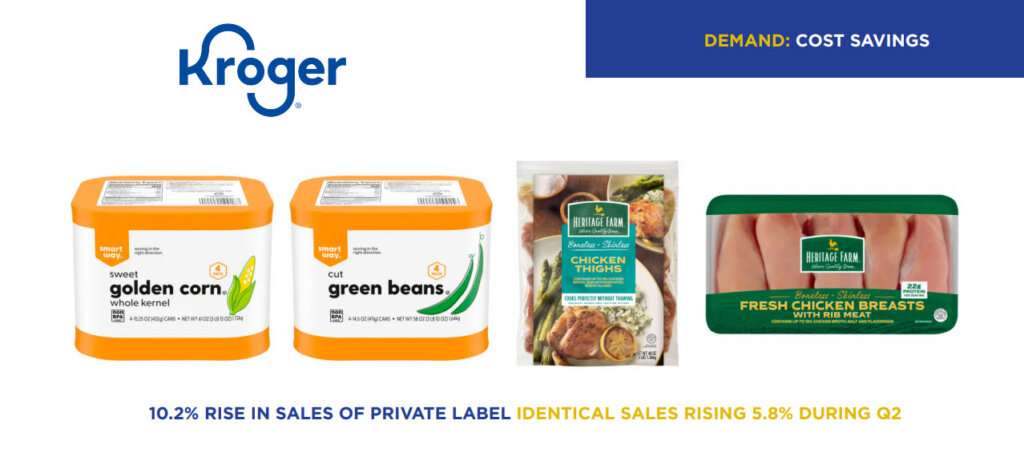 In fact, Kroger saw their own private label sales increase by more than 10% in multiple quarters for 2022, outperforming equivalent sales for non-private label products.
Demand: Expanded E-commerce
Any discussion of trends in the grocery channel today must address the growing number of ways e-commerce is being used to meet customer needs.
According to O'Leary, when it comes to online grocery shopping, "There are a lot of emergent, fast-growing platforms that can tackle various aspects of grocery buying, need states, [and] basket size."
The following graphic helps illustrate his point: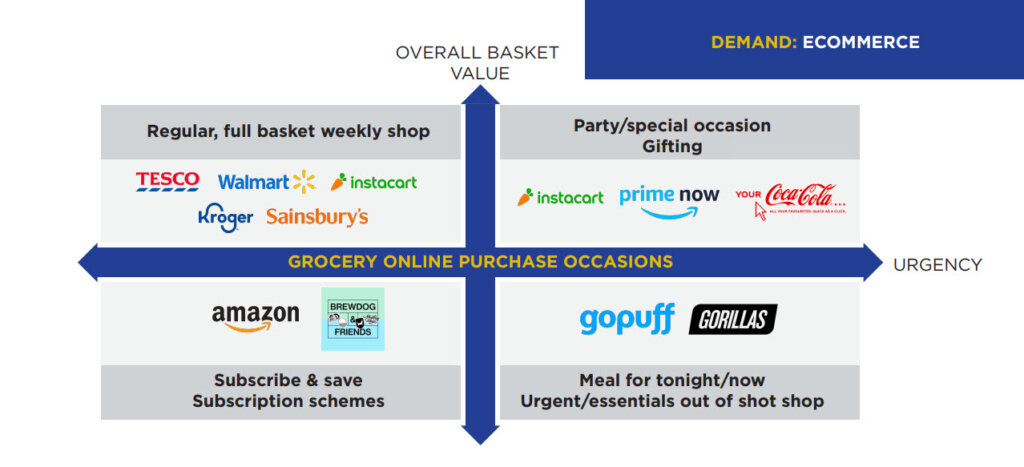 Keep Your Eye on Those Key Initiatives
The new developments in the global grocery channel largely reflect consumers' evolving preferences for selection, affordability, and convenience.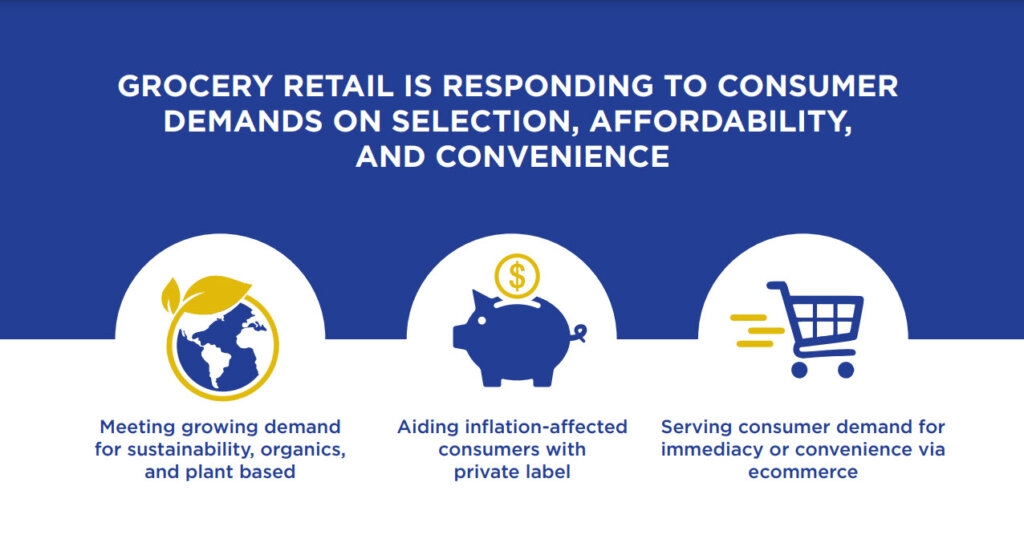 More specifically, O'Leary says to look for grocery retailers to do the following:
Offer more merchandise that meets the growing demand for sustainability, organics, and plant-based products.
Help the more cost-conscious consumer by expanding lines of more affordable private label products.
Serve consumers looking for convenience and/or immediacy by providing more e-commerce options.
"There are a lot of big themes, but those are the ones I would be watching … as we look to 2023 and beyond," says O'Leary.
Learn more about how these retail solutions can work for you.
Share This