Articles
3 Global Perimeter Grocery Shopping Trends: See How This Critical Store Section Is Evolving
Get insights and real-world examples to understand the global perimeter grocery shopping trends shaping the future of this critical store section.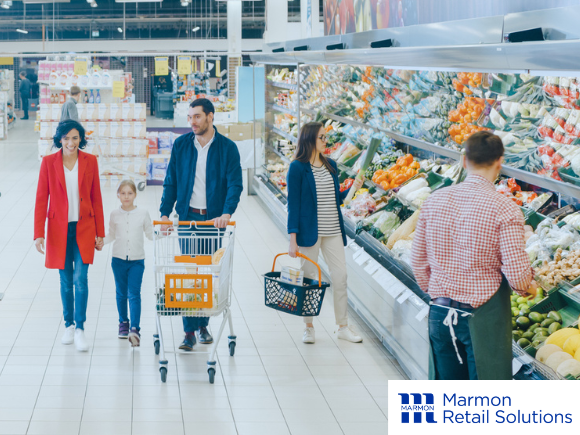 With its perishable food essentials, the grocery store perimeter has long been considered a crucial draw for getting shoppers deeper into the store and increasing sales. But with the rise of online shopping, this store section's importance has actually intensified. How come?
Find out below why—and how—grocery store perimeters around the world are evolving. Check out these helpful insights and real-world examples from retail consultant Jack O'Leary, Head of Advisory, North America, for Edge by Ascential.
The Effects of E-Commerce on In-Store Grocery Shopping
For perspective on global trends in the grocery store perimeter, it's helpful to first consider the bigger picture.
Based on data from Edge by Ascential, O'Leary says global e-commerce sales for the edible grocery category will increase at a 9.7% compound annual growth rate (CAGR) for 2022 to 2027. Meanwhile, projections for store-based sales indicate a CAGR of 3.5%.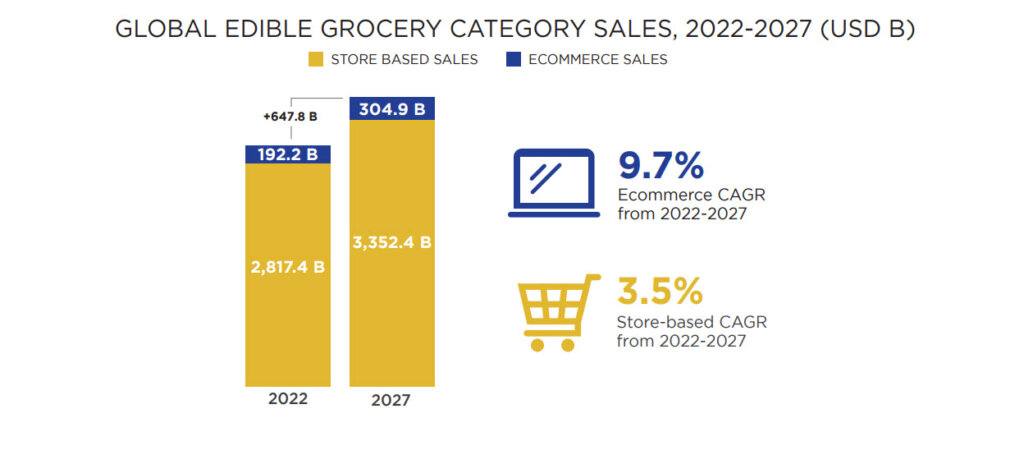 As the graphic illustrates, brick-and-mortar sales still make up the vast majority of this category. That said, O'Leary points out that e-commerce is definitely "disrupting grocery selling around the world."
It's also shaping the way grocery stores are being designed, including the perimeter. Let's take a closer look.
A Shrinking Center and an Expanding Perimeter
Based on a variety of sources, including input from retail leaders and information derived from store opening floor plans, O'Leary says, "We believe that in most Western markets, big box grocery stores are going to shift their space allocation in certain ways."
A major example is in the store perimeter, which is gaining new prominence—and more square footage—because it offers items and experiences "that can't be easily replicated or sold online," explains O'Leary. (See below for examples.)
Meanwhile, e-commerce shoppers are buying more and more of the shelf-stable products traditionally found in grocery store center aisles. O'Leary says, "What that means is the center store is being somewhat hollowed out by e-commerce order trends."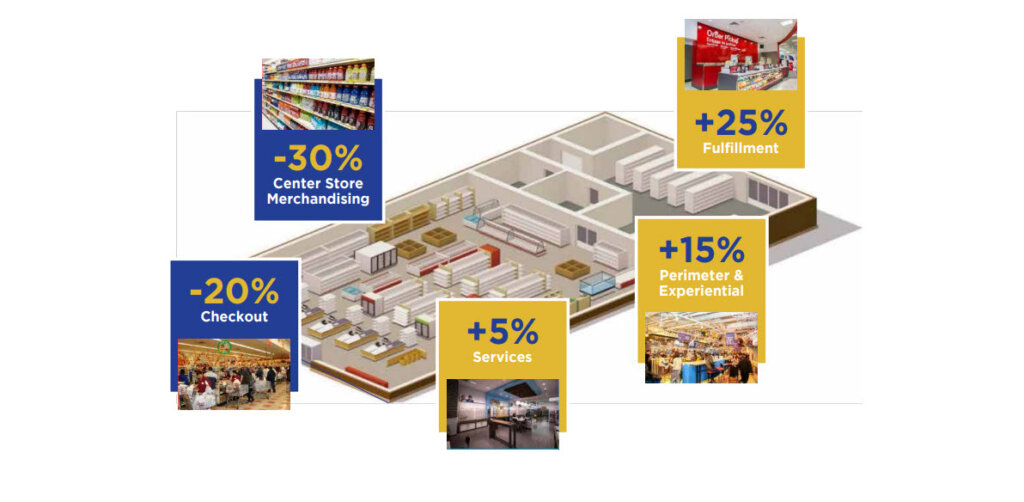 Here are more specific predictions from the Edge by Ascential team on how the sales floor of grocery stores may change over the next five to ten years:
30% less space to center store merchandising
20% less space to the checkout area
25% more space to online fulfillment area
15% more space to perimeter products and experiences
5% more space to non-retail offerings
3 Perimeter Trends to Watch
With that shrinking center store comes a new wave of perimeter trends. O'Leary highlights three in particular:
1. New Technology is Enhancing the Perimeter Shopping Experience
Weighing produce. Look for a new generation of tech to make produce shopping more convenient. For example, with the help of AI-powered weighing systems, the Australia-based grocery chain Cole's is offering perimeter shoppers improved speed of service for unpackaged produce.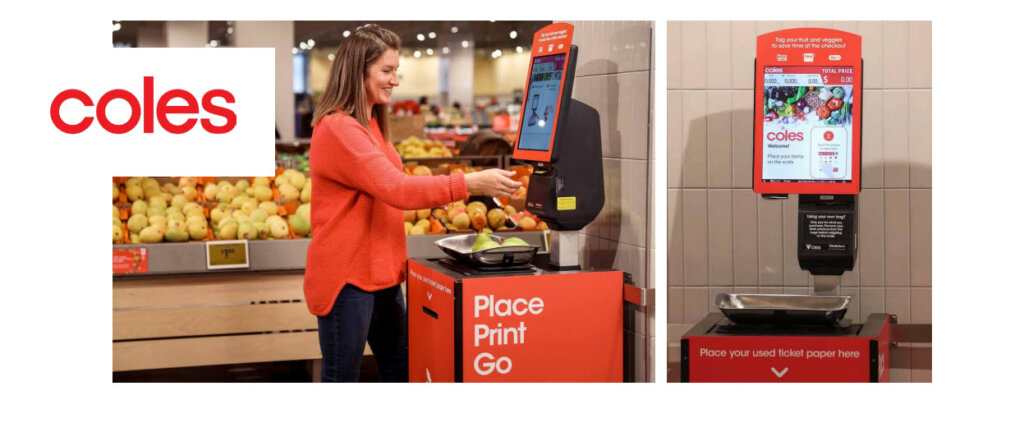 Cole's is offering perimeter shoppers improved speed of service for unpackaged produce.
Recognizes the type of produce
Weighs the produce
Automatically prints a label for the shopper
Next-level checkoutless shopping. The quest for shopper speed and convenience via technology can also be seen at the checkout—or rather in the absence of the checkout.
According to O'Leary, Germany's second largest food retailer, Rewe, has opened a fully autonomous large-square-footage store.
"The shopper will be able to enter the store, select their items, and just walk out. No queuing at checkout," he says.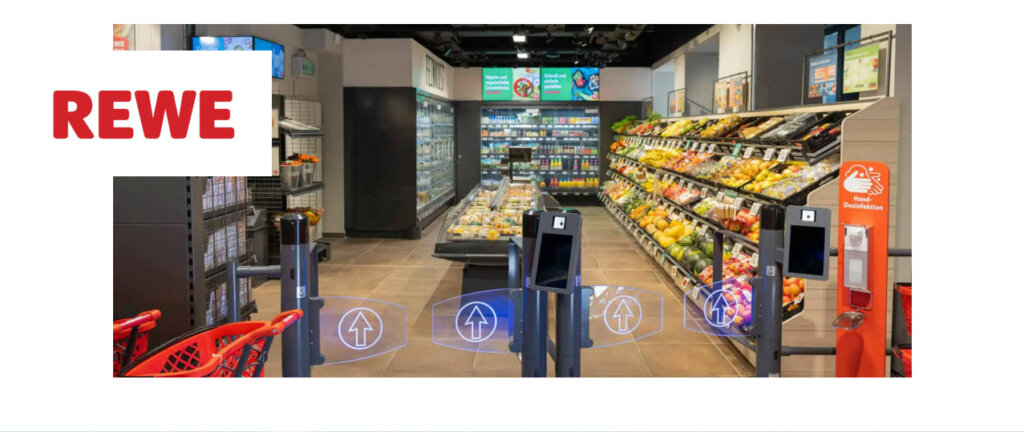 A development like this is relevant to the store perimeter in an important way. Fresh produce in particular, as O'Leary explains, has "traditionally been the hardest to enable for checkoutless solutions" because it typically is unpackaged and has to be weighed.
But he says that the technology has now advanced enough to handle both packaged items and the unpackaged items commonly found in the perimeter.
2. Grab-and-Go Meal Solutions Growing In Importance
As time-crunched consumers look for faster eat-at-home solutions, grocers around the world are responding accordingly with more offerings on their store perimeters.
A good example is Spain's largest grocer, Mercadona, which is expanding their grab-and-go meal section in a number of stores. O'Leary says Mercadona's goal is to eventually bring these expanded offerings to the entire store network.

Similarly, in the Netherlands, Albert Hein is launching a new store concept focused on fresh meals. Following suit with trends in space allocation, O'Leary says Albert Hein will devote more area to the perimeter for fresh food merchandising like sliced vegetables and baked goods.
3. Health, Wellness, and Sustainability Features Being Added
Grocers are also incorporating what O'Leary describes as "experiential merchandising" in their store perimeter designs, reflecting growing consumer interest in areas like health, wellness, and environmentalism.
Ahold Delhaize, for instance, has a new Stop & Shop location located in Massachusetts with a section entirely focused on community health and wellbeing, including Guiding Stars nutritional information and health assessment kiosks.

And in the UK, Morrisons is building what could be considered the ultimate environmentally focused brick-and-mortar grocery store.

The perimeter includes an expanded selection of package-free foods, and the overall store implements numerous sustainability-focused features such as solar panels, rainwater harvesting, and a recycle center for customers' waste.
Keep Your Eye on the Evolving Perimeter
The perimeter trends we've covered demonstrate the abiding need for retail solutions that change with shopper preferences.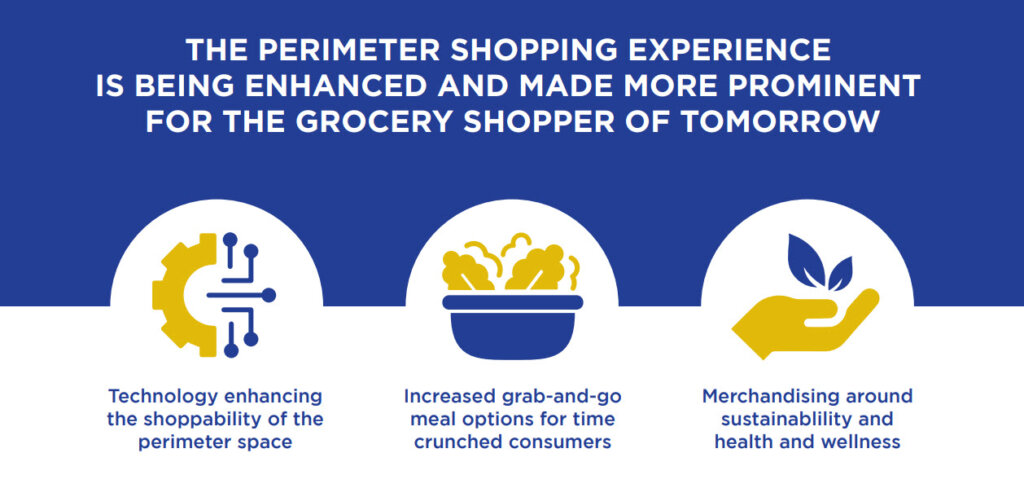 Summed up in the graphic above, these trends can also be seen as an encouraging bellwether for the enduring, albeit ever-evolving, brick-and-mortar grocery store.
Learn more about how these retail solutions can work for you.
Share This