Articles
How to Improve Your C-Store Exterior (Because First Impressions Matter Now More Than Ever)
Get expert insights for creating an exceptional C-store exterior that attracts customers AND keeps them coming back.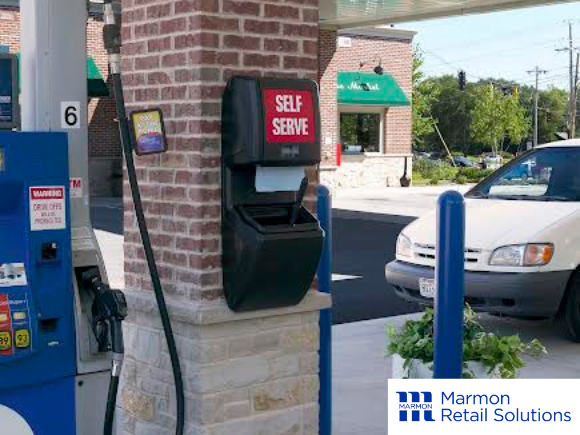 A poorly lit forecourt, overflowing and damaged garbage receptacles, worn out windshield squeegees—these and other blights on your C-store's exterior can immediately create a bad impression of your business.
"You may get someone to buy gas once," says Sandi Dzirbik, Director of Sales for Commercial Zone Products. "But will they want to stop again if they weren't satisfied? It's not likely when there's probably another option nearby."
Dzirbik, a retail furnishings expert with nearly four decades of experience working with C-stores, says a bad impression of your store's exterior can lead to a ripple effect of unfavorable outcomes like these:
Customers make negative assumptions about what's inside the store (e.g, unclean restrooms, bad coffee, expired food, etc.).
Customers are less likely to return.
Sales opportunities are lost.
Customers carry a lasting poor impression of your overall brand.
A retailer's risk of losing a corporate contract increases due to poor brand compliance.
So how do you make a great first impression? First, view our YouTube video. Then we'll take a closer look.
Tips for Creating a More Effective C-Store Exterior
In her years of experience, Dzirbik says she's never seen the C-store landscape quite so competitive. "That's why it's more critical than ever for the exterior to capture a customer's attention and leave them with a great impression of who you are."
Fortunately, negative consequences like those described above have a flip side. With an exceptional C-store exterior, Dzirbik says you can generate significant benefits like these:
A positive experience on the outside of your C-store makes it more likely that customers will want to go inside.
Customers with a positive impression of your exterior are also more likely to spend more once they go inside.
Happy customers will choose your store again and also remember your brand when they see other locations.
With so much riding on your C-store's exterior, Dzirbik says retailers need to be much more conscious about the experience they're creating for customers. She suggests keeping factors like these in mind:
Start With the Fundamentals
As you make a more concerted effort to improve your C-store's exterior, Dzirbik says to first make sure you're covering the fundamentals. "They may be obvious, but I've seen enough failures to suggest they're worth pointing out."
Here are some important examples:
Keep the outside of the C-store free from litter.
Make sure trash/recycling receptacles are clean and consistent with one another and meet brand compliance.
Provide clean gas pumps and orderly pump islands.
Keep the entrance area to the store uncluttered.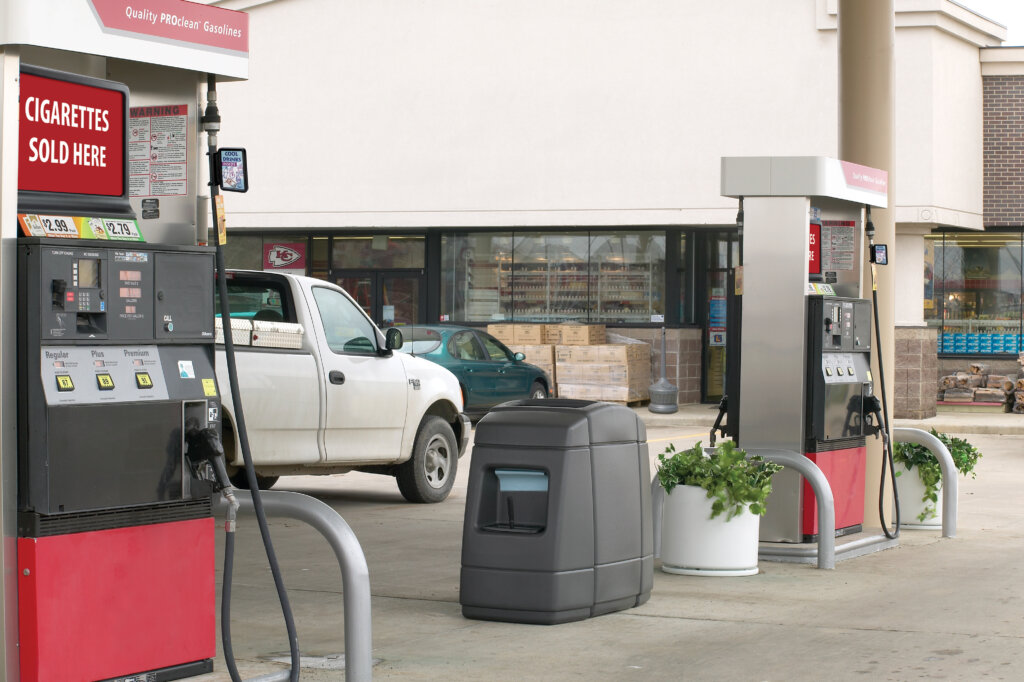 Be Strategic With the Size, Shape, and Placement of Your Furnishings
Dzirbik says that purchasing new products to improve your exterior often requires more strategy than many retailers realize. Garbage receptacles are a great example.
Placing them at high-traffic areas, such as between pump islands and at store entrances, is definitely smart. But factors like the following should also be considered in your decisions:
The shape and size of receptacles should fit well with where they're positioned so they don't obstruct foot paths or car thoroughfares, for example.
Their capacity should be large enough so that employees don't have to constantly empty them.
If you need to save space at pump islands, you could opt for all-in-one trash receptacles, which incorporate a windshield service center.
Receptacles are also an opportunity for branding, so you may want to think about colors and other options for messaging (see more on branding below).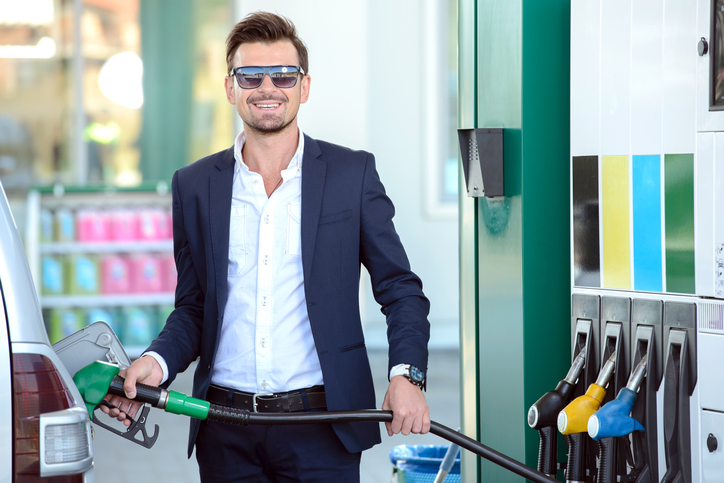 Meet the Rising Service Expectations of C-Store Customers
Today's C-store customers expect more. For example, Dzirbik says waste windshield service centers are fast-becoming the norm, making it all the more important to keep them well-maintained with:
Fresh windshield water that includes a cleaning agent
Paper towel if you have dispensers (another increasingly common expectation)
In fact, Dzirbik says research done by Commercial Zone Products has shown that more and more customers want options like disposable gas gloves and hand sanitizer stations. (She also notes that this research was done prior to the pandemic.)
The good news here, says Dzirbik, is that features such as those can be conveniently incorporated into amenity units on each pump island.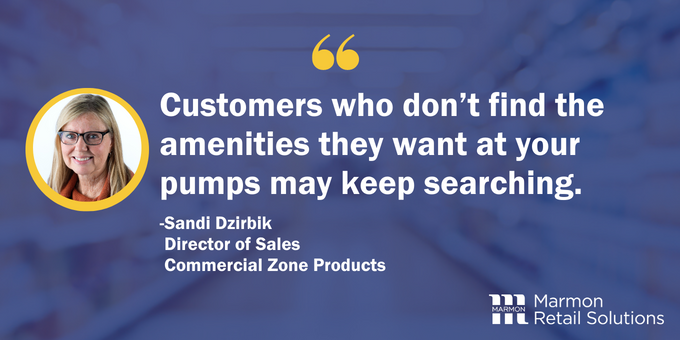 "Customers who don't find the amenities they want at your pumps may keep searching until they find what they feel is their go-to gas station. And today they've got a lot of options," says Dzirbik.
Deliver High-Impact Branding
A well-maintained exterior with convenient amenities will certainly benefit your overall brand. But Dzirbik emphasizes that your C-store exterior is really a key opportunity to present high-impact branding through your logos, signage, and brand colors.
Imagine a potential new customer driving down the road, suggests Dzirbik. "What kind of impact do you think your current branding has on that person? Will it move them to turn into your lot?"
She says that companies who take the time to really get clear on what their brand stands for and then communicate that in their exterior branding are going to have a competitive edge.
She offers the following reminders:
Be sure to use great lighting. A well-illuminated forecourt, especially at night, is crucial for creating a safe and welcoming destination. But effective lighting is also a key part of your branding because it can literally highlight your branding elements.
Get the most from your brand colors and messaging. Try to use your brand colors whenever possible. For example, opt for custom trash receptacle colors over basic black.
Choose materials that fit with your overall aesthetic. Receptacles and other furnishings should blend well with your overall store aesthetic. For some retailers, that could mean choosing materials like stainless steel or recycled plastic lumber over conventional plastic.
Choose Your Furnishings Supplier … Carefully
Whether you're doing a refresh, a rebranding, or a new build, Dzirbik says it's important to choose your furnishings supplier carefully.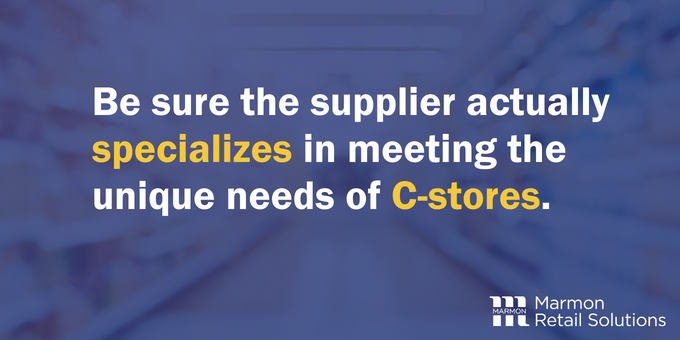 For starters, be sure the supplier actually specializes in meeting the unique needs of C-stores. That means they should be able to show examples of brand image programs and similar projects they've completed for C-stores.
They should also have the capability to handle the breadth of items you'll likely need for your exterior, including:
Garbage and recycling receptacles
Windshield service centers
Pump toppers and squawkers
Benches and other seating
Cigarette receptacles
Planters
Merchandisers
Beyond that, Dzirbik says to keep factors like the following in mind as you search for a C-store site furnishings supplier:
Look for a supplier who can provide a turnkey solution, from design and production to estimating and warehousing—as well as brand compliance closeout surveys.
Be sure the supplier has in-house customer service reps who are dedicated to your account.
See if materials are available beyond conventional plastic, like aggregate stone, stainless steel, and recycled plastic lumber.
Find out if they offer a good-better-best model where complementary items can be purchased at different price points, depending on materials and individual store profiles.
Confirm that the supplier can do custom colors and custom furnishings, and ask about their flexibility to add custom features to stock products.
Don't Forget: Your C-Store Exterior is Part of a Bigger Picture
You've just learned a lot about improving the performance of a C-store's exterior. But what about your overall C-store?
To create the best customer experience possible, you'll also want to consider factors like the following in your store improvement efforts:
Custom retail merchandising throughout your C-store, including pusher systems to maximize purchase potential.
Display technology and related strategies to drive engagement at every step of the customer journey and help build loyalty.
Better remodel and new-build programs for your entire C-store that help you reduce points of contact, meet changing customer expectations, AND overcome rising costs, longer lead times, and supply chain interruptions.
Marmon Retail Solutions provides integrated products and services that enable your C-store improvements to be carried out more strategically, more cost-effectively, and ultimately more successfully.
Learn more about how these retail solutions can work for you.
Share This