Articles
Grocery Industry Trends: How Micro-Fulfillment Centers are Helping to Drive Speed for Customers
Learn how AND why micro-fulfillment centers are revolutionizing the grocery industry.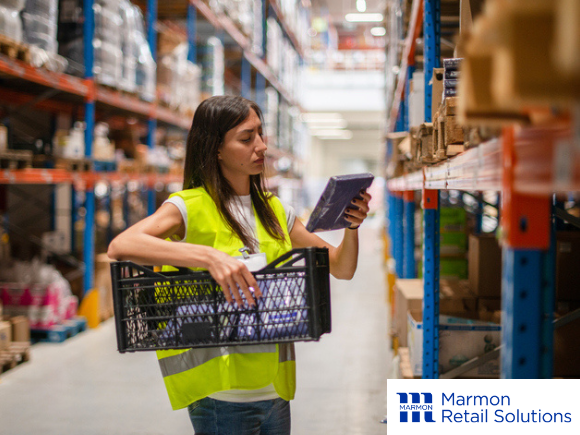 Grocery shoppers want faster (and faster) fulfillment. But retailers are feeling the pain – like profit margins of -15% with pick-from-store home delivery. Some, however, are shifting tactics to micro-fulfillment centers and hitting 2% profit margins in the process.
Retail consultant Jack O'Leary, from Edge by Ascential, will provide insights and benchmarking data to help you understand the basics of micro-fulfillment centers. He'll also describe how this fulfillment approach could eventually revolutionize the grocery shopping experience.
Let's first consider what's actually driving the need for faster fulfillment.
The No. 1 Catalyst for Change: Speed
"Consumers are demanding more and more rapid delivery to more and more channels," says O'Leary. And as the table below illustrates, retailers are responding to shopper expectations.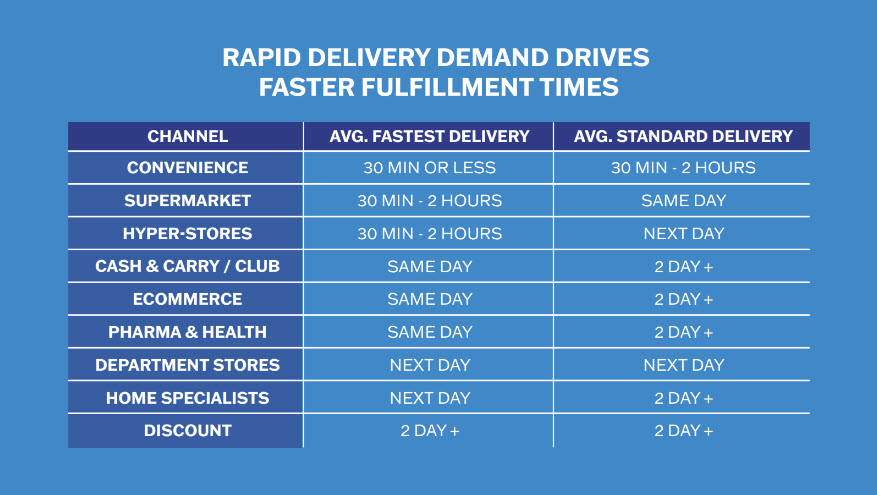 The benchmarking conducted by Edge by Ascential does reveal some notable delivery differences from one channel to the next. However, one factor is clear: "[A]cross retail, speed is of major importance," says O'Leary.
The Challenge: Staying Profitable in the Face of Rising Shopper Expectations
That perceived need for delivery speed comes with some daunting challenges for retailers, says O'Leary, especially when it comes to generating greater profitability in their business models.
As the graph below indicates, a pick-from-store home delivery model, for example, can result in a -15% profit margin.
On the other hand, a click and collect model, specifically one that leverages an automated micro-fulfillment center, can yield a profit margin of 2%.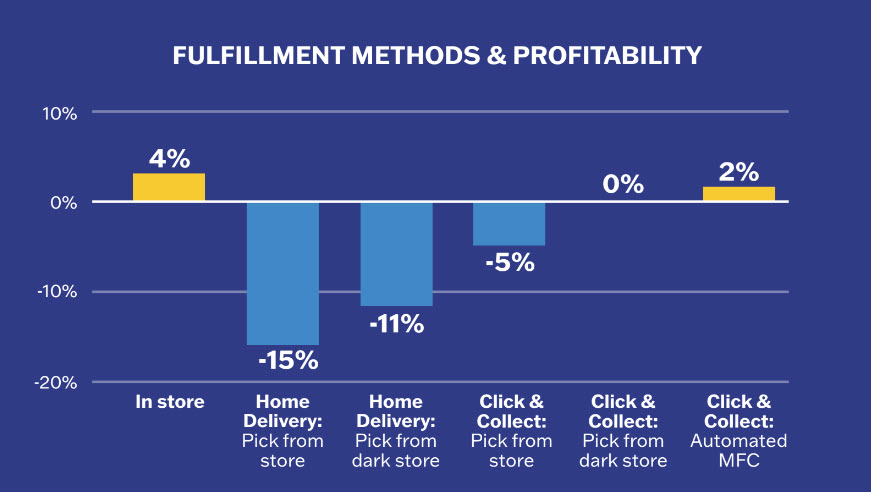 The Efficiency Game-Changer: Micro-Fulfillment Centers
Before delving into the distinguishing factors of a micro-fulfillment center (MFC), first consider the following graphic, which illustrates the MFC phenomenon and, according to O'Leary, its "robust growth going right alongside e-commerce adoptions."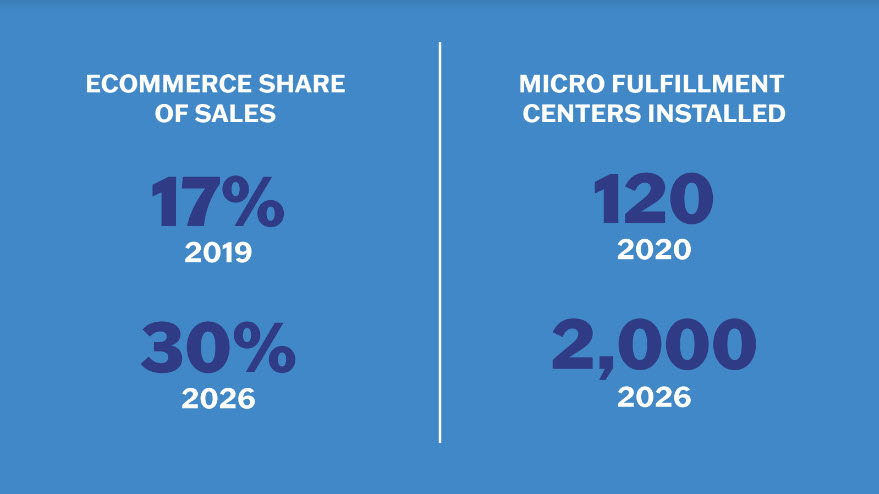 Typical characteristics of an MFC include the following:
A relatively small size. An MFC can be somewhere around 5,000 to 15,000 square feet, located either within the store or adjacent to the store, or can be a standalone.
A strategy behind the size. A smaller facility more easily enables hyper-localization and faster order fulfillment, especially when added onto an existing store to ramp up e-commerce capabilities.
A vertical storage system. Also known as an automated storage and replenishment system, this allows for more inventory in tighter spaces.
Robotics and AI. Technologies like these help maximize the efficiency of order picking. For example, robotic carts can convey inventory, oftentimes in totes, and robotic arms can handle and assemble inventory for orders.
Temperature zones. Reflecting the various temperature needs of grocery products, an MFC often has frozen, chilled, and ambient zones.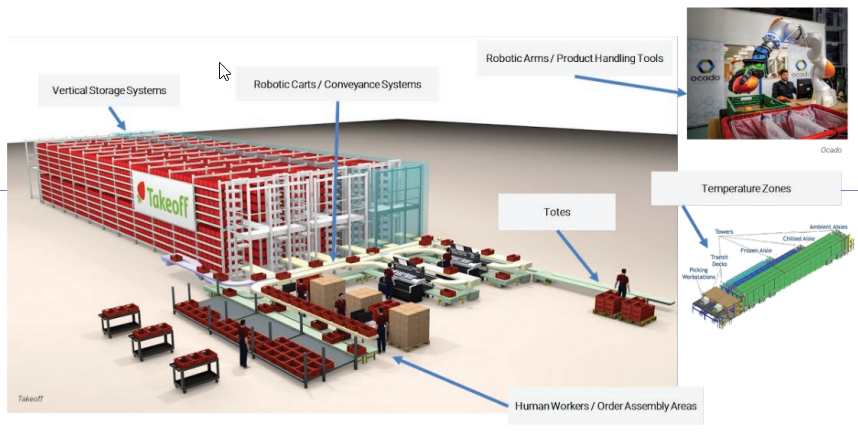 Where MFCs Are Concentrated
Not surprisingly, markets with higher online grocery penetration are exhibiting a higher concentration of MFC adoption.
"For example, in the U.S. when we do surveys, you'll see a much higher percentage of MFC adoption by retailers than in a market with lower e-com penetration, say like Mexico," says O'Leary.
See the graph below for more details.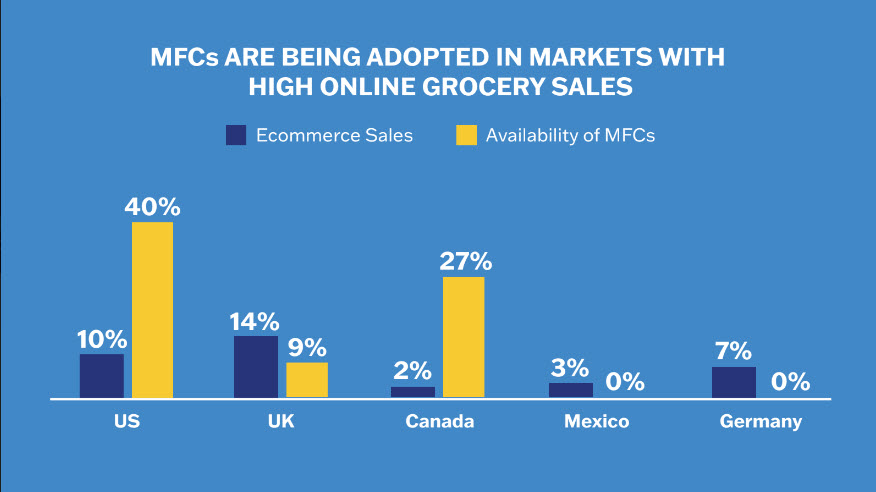 MFC Adoption: Partnering with Tech-Based Vendors
Retailers using MFCs include well-known store-based companies like Walmart and Tesco, as well as others who combine retail and wholesale into a non-store-based model, such as FreshDirect.
The MFC model also typically involves retailers partnering with tech startups such as Fabric, Dematic, Alert Innovation, and Takeoff Technologies.
Here to Stay: The Short- and Long-Term Future of the MFC
O'Leary says that the MFC model will continue to expand its influence over both the short- and long-term future. Here are his projections:
Today. The highly adaptable MFC systems of today are prompting more and more retailers to retrofit stores with MFC solutions in areas with a high e-commerce penetration.
Over the next 3 to 5 years. Top retailers will equip all high-volume e-commerce stores with MFC solutions. Plus, we'll start to see ready-built stores (vs. retrofitted stores) that contain MFC and other automation capabilities. Also, look for the first packaging with an automation/MFC focus to emerge.
Over the next 10 years. Store networks will begin to phase out legacy stores and MFC-retrofitted stores in favor of those designed and built with fulfillment and the MFC model in mind. Meanwhile, suppliers will continue to develop products packaged for a better MFC process.
Over the next 20 years and beyond. Look for grocery retailers to design stores for the realities of their local markets. In some cases, this could mean most or all center store items could be moved to an MFC in the back.
Says O'Leary, "This future landscape is one that's going to evolve really rapidly," with a major result being more efficient operations.
If you'd like to discuss how you can better adapt to changing shopper demands and improve the efficiency of your retail environment, contact Marmon Retail Solutions today!
Share This