Articles
What's Driving the Next Generation of Retail Store Formats?
Learn about the next generation of retail store formats and see how the omnichannel shopper is driving the physical store's evolution.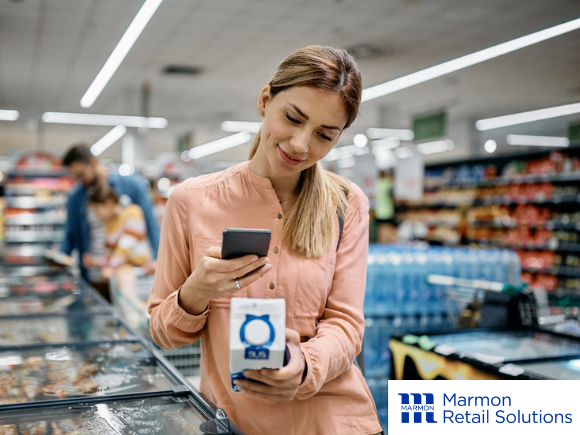 As retail emerges from the turbulent pandemic years, brick-and-mortar retailers are bringing a renewed focus to an increasingly critical customer group: the omnichannel shopper. How can stores evolve to better meet this shopper's needs?
With the help of retail consultant Jack O'Leary, Head of Advisory, North America, for Edge by Ascential, we'll look at the encouraging state of brick-and-mortar retail and explore how the omnichannel shopper is driving the next generation of store formats.
The Key Strategies for Brick-and-Mortar's Success
Because omnichannel shoppers move fluidly between online and offline shopping, it's imperative that the physical store evolves to create compelling reasons for in-store shopping.
At the same time, the physical store must also reflect the realities of e-commerce—and ideally help facilitate online shopping when possible.
It's a challenging dynamic, but, according to O'Leary, there is a way forward in which brick-and-mortar can flourish: store formats that not only bridge the divide between online and offline shopping but also make the in-store shopping experience indispensable for a significant number of consumers.
See retail consultant Jack O'Leary describe the next generation of retail store formats, part of our What's in Store video series.
E-Commerce and Store-Based Growth Rates are Converging
Before we look at the next generation of in-store formats, let's step back to consider the numbers on both online and in-store retail sales.
We've all grown accustomed to e-commerce's rapid growth rates. For more than a decade, there's been a double-digit differential between the year-over-year (YoY) sales growth of e-commerce and store-based retail.
In fact, in the pandemic year of 2020, e-commerce's YoY growth rate reached its zenith, 42.7%, while the store-based growth rate sank to negative 0.2%.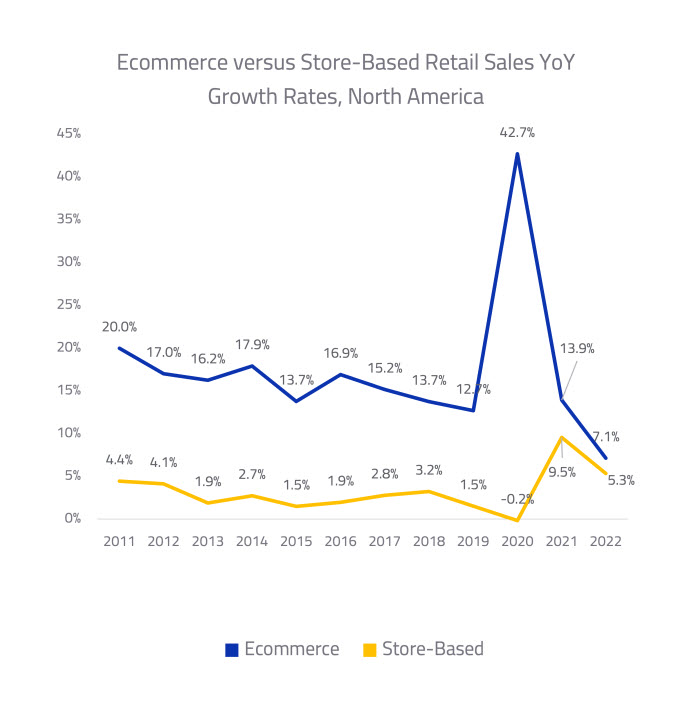 But that gap has narrowed dramatically, and the store-based channel is now growing nearly as fast as e-commerce. "We've actually seen the channels converge as we've emerged from the pandemic period, where e-commerce saw explosive growth," says O'Leary.
For example, in 2022, e-commerce retail sales grew at a 7.1% YoY rate. Meanwhile, store-based retail sales grew at a robust YoY rate of 5.3%. See the graph above for more details.
Keeping the Numbers in Perspective: Store-Based Sales Still Rule
As we note the intriguing developments in retail sales, it's important to clarify that brick-and-mortar still reigns supreme.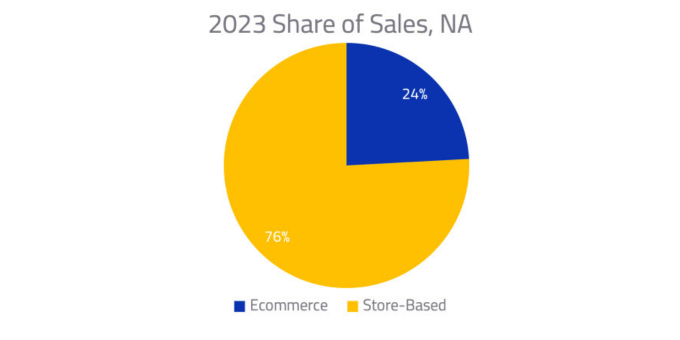 In 2023, for example, the share of sales coming from store-based retailing in North America is at 76% compared to 24% for e-commerce sales.
Also, though store-based retail growth did take a hit during the pandemic, there are numerous examples today indicating that store network expansions will be a key growth strategy in the years to come.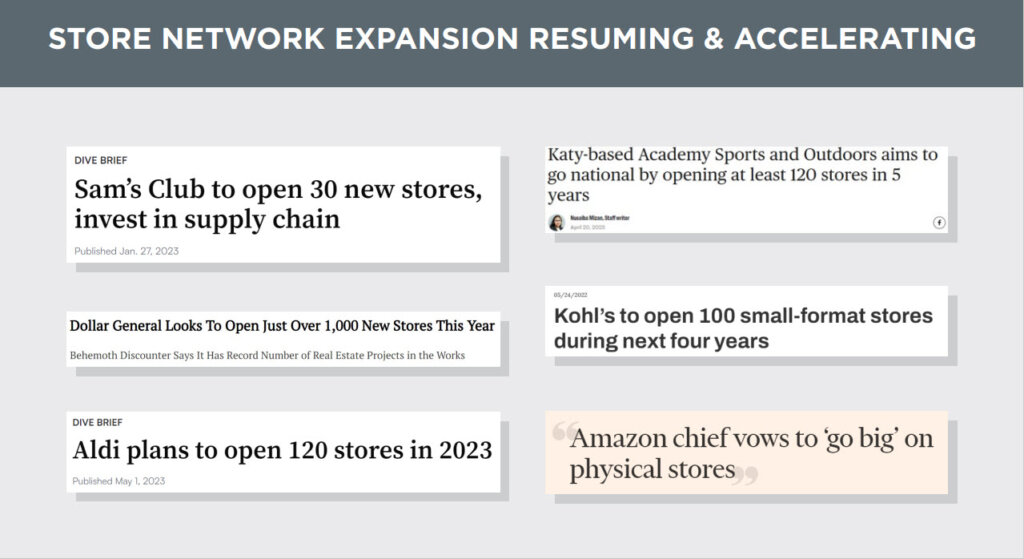 O'Leary points to various retailers that are renewing efforts to expand their physical store networks—from Aldi and Dollar General to Sam's Club and even Amazon.
More Spending, More Digital Integration: A Profile of the Omnichannel Shopper
As retailers expand with new stores, O'Leary says it's an opportunity for them to implement new store formats that more effectively cater to the omnichannel shopper. And considering numbers like the following, it's not hard to understand why that's important:
87% of shoppers begin product searches on digital channels even if they purchase in store
71% of shoppers use mobile devices in store for product research
1 in 3 in-store purchases start online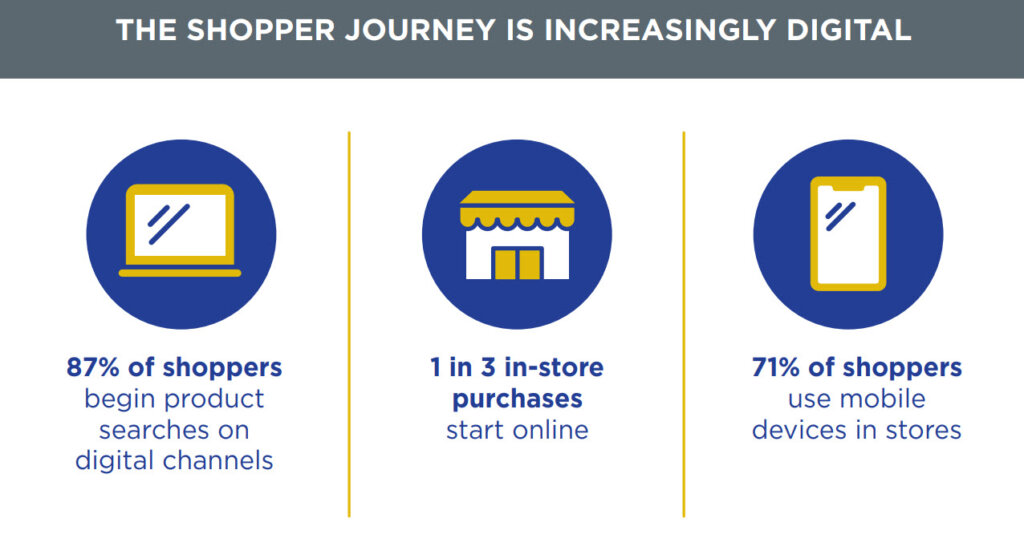 Moreover, omnichannel shoppers often mean higher sales volumes. For instance, compared to its online-only shoppers, Target reports that its omnichannel shoppers spend four times as much.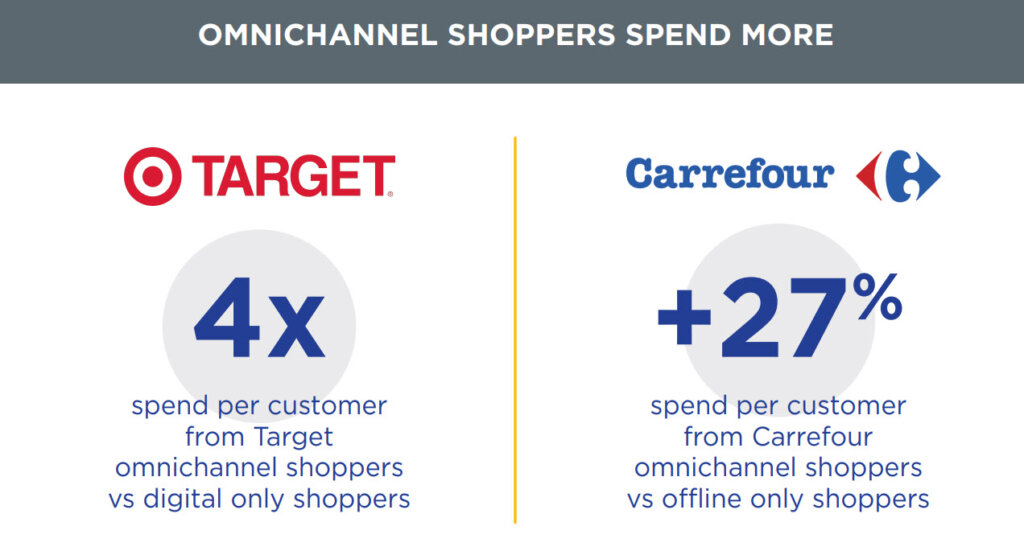 Similarly, France-based Carrefour says that over a 24-month period, the spend per customer for omnichannel shoppers was 27% higher than offline-only shoppers.
Look for More Digitally Integrated Customer Journeys to Emerge
The conventional in-store experience has been "fairly analog with not many options for engagement or activity or data capture for retailers," says O'Leary.
But given the fast-evolving digital behavior of today's shopper, brick-and-mortar retailers need to respond accordingly. O'Leary explains that the next generation of store formats will "have a lot of opportunities to connect and interact with shoppers digitally" through methods such as these:
Connected screens
Retail media
Mobile devices
Loyalty programs
Online purchase and home delivery
Click and collect
Personalized follow-ups via digital channels
High Stakes for Differentiating the In-Store Experience
With online shopping's unparalleled convenience, the stakes are high to differentiate in-store shopping in ways that give the brick-and-mortar shopper a superior experience.
That online convenience factor is a powerful one, but O'Leary says it also underscores just how "very utilitarian" online shopping can be. "Most [online] shoppers have high intent. They know what they want. They go to one of the large e-commerce platforms, find their item, read reviews, and purchase it."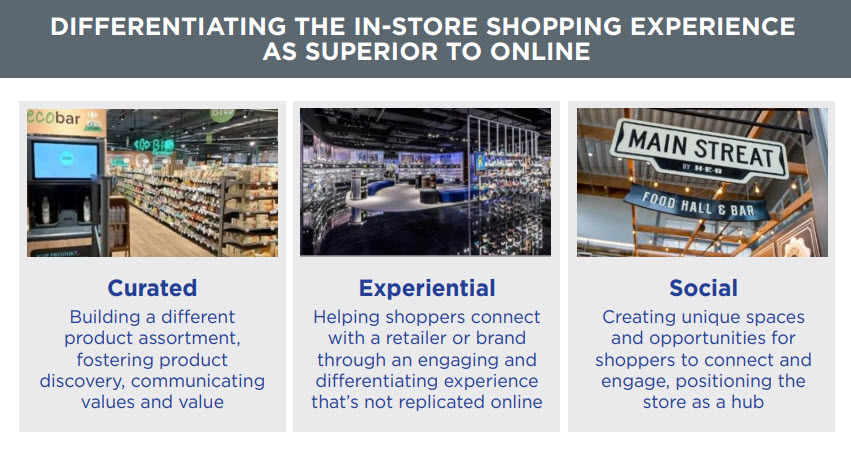 But omnichannel shoppers are more open to the in-store experience, especially if they continue to have compelling reasons to go. For physical store formats to continue drawing customers, O'Leary says they will need to exhibit key features like the following:
Curated assortments. Curation in this sense means giving shoppers the chance to delight in discovering in-store items that aren't necessarily available online.
Experiential environments. In-store shopping has the potential to create more meaningful impressions and experiences. Experiential store environments leverage this factor by creating positive shopper experiences that can't be replicated with online shopping. (See Designing a Retail Store: 2 Methods to Shake-Up (and Improve) the In-Store Shopping Experience for related information.)
Social engagement opportunities. This includes incorporating comfortable and inviting areas like cafes and food service sections, for example, which encourage more social engagement.
More Brick-and-Mortar Stores Will Become Logistics Assets
As store networks expand, there's another important factor to consider beyond the evolving in-store experience: the physical store's growing significance in fulfillment logistics.
Home delivery, click and collect with curbside pickup, online purchase with in-store pickup—the omnichannel shopper wants these options. But offering them comes with inherent logistical complexities.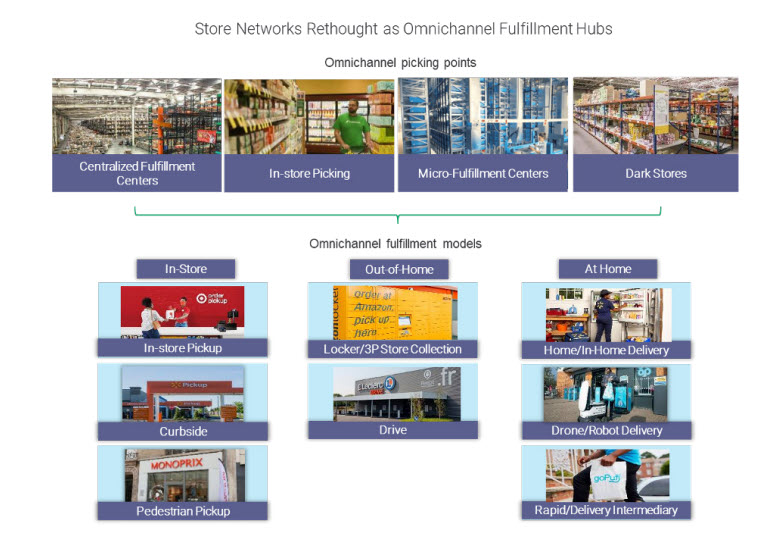 That's precisely why the brick-and-mortar store will play a growing role in "having inventory proximately located to consumers," says O'Leary. This applies both to in-store picking from aisles and back-of-store micro-fullfillment centers.
Summarizing the Successful Store Formats of the Future
O'Leary says that the most successful store formats will continue to improve the frictionless shopping experience, both in store and online. At the same time, they will push into new frontiers for what it means to shop in-store, thereby creating powerful incentives for the omnichannel shopper to maintain interest in the physical shopping experience.
On the operational side, retailers will continue to seek format improvements in fulfillment for the omnichannel shopper—while also maintaining a relentless focus on finding more efficiencies.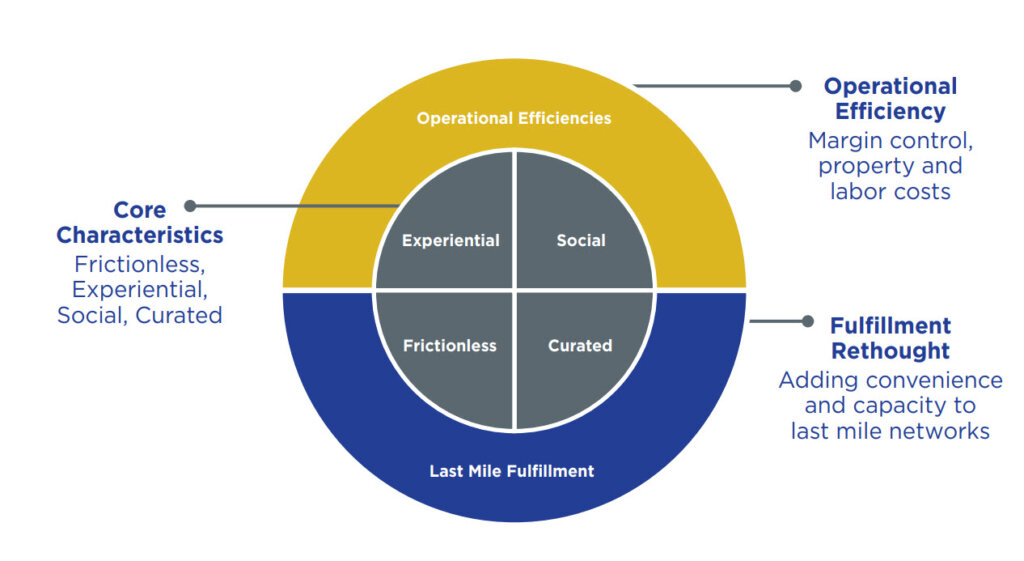 By implementing strategies like these, O'Leary says physical stores will "continue to be successful in comparison to pure-play online e-commerce," adding that "these will be the store formats of the future that we all shop in."
Learn more about how these retail solutions can work for you.
Share This