Articles
2022 Retail Trends for Brick-and-Mortar Stores: Removing Friction and Inviting Digital Engagement
Get helpful examples to understand 2022 retail trends for brick-and-mortar shopping.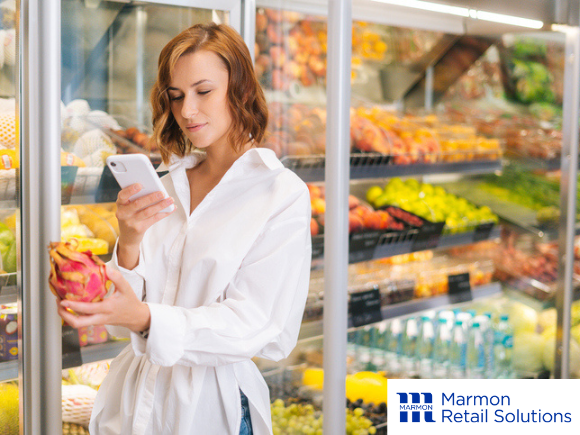 The retail trends for 2022 represent a variety of ways to meet the evolving needs of brick-and-mortar shoppers. Removing pain points, adding more services, creating digital experiences exclusive to the physical store – look for retailers to try and optimize the value of the in-store experience.
Below we'll look at specific examples of this with help from retail consultant Jack O'Leary, Head of Advisory, North America, for Edge by Ascential.
O'Leary focuses on four key areas that encapsulate what he describes as the "Store of the Future Transformation Framework" for 2022 and beyond:
Experiential
Social
Frictionless
Curated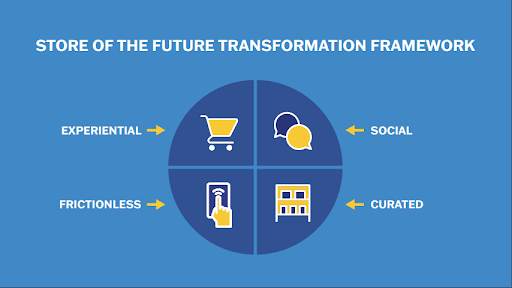 Let's take a closer look at each area in the rest of the blog, but you can also check out O'Leary's presentation in this video.
1. Experiential Trends: Delivering In-Store Digital Media Activations
Retailers in 2022 are finding ways to add value to the consumer's brick-and-mortar experience as they also help to differentiate it from the digital online shopping experience. That said, data and technology continue to play a growing role in the in-store experience.
How can technology augment the physical store environment and keep shoppers engaged? Retailers have been amping up their media arms, and 2022 will see more of them extending that to in-store, data-driven media activations.
O'Leary says these are "intensely powerful … because they're marrying both online and in-store behavior from their consumers."
Examples
In-store screens. Carrefour's new media business, Links, will look to refine customer insights by leveraging its 50 million loyalty card holders. This enables the retailer to deliver increasingly granular, location-specific in-store (and online) activations through features like in-store screens.
Product cooler screens. Similar in-store deployments can also be seen in other retailers. Walgreens, for example, has rolled out coolers with digital screens on the front with impulse-driven ads that reflect:
Specific shopper types
Times of day
Occasions
Scannable displays. ShopRite's Fresh to Table initiative helps shoppers find fresh on-trend items. One way it does that is by featuring in-store digital displays with a QR code for scanning. This empowers shoppers to:
Understand more about the products they're looking at
See related recipes
Consider related items to purchase
Checkout screens. Walmart has 170,000 TV, wall, and self-checkout screens across its 4,500+ U.S. stores. Through their Walmart Connect ad network, the retail giant is, according to O'Leary, "using data and media activations to influence the whole digital shopper journey with these screens in store as much as they do on Walmart.com."
2. Social Trends: Adding Features to Make the Store a Community Hub
For 2022, more retailers will be incorporating ways for stores to serve as a community hub. This involves innovations for creating a welcoming environment that involves more than just shopping.
Examples
In-office stores for the evolving work setting. Albert Heijn, the largest supermarket chain in the Netherlands, has launched a mini-supermarket format called "AH to go" at hundreds of office locations. As a response to workplace changes in recent years, the new format combines cafeteria, office space, and cafe features.
Healthcare clinics. Creating a more community-based hub is also being done by adding healthcare services. Walmart, for example, continues to expand its Walmart Health initiative by including health clinics in more and more stores.
Full-fledged food service. Morrisons "Market Kitchen" in the UK is combining supermarket assortment with fresh food takeaway.
Item selections curated to local markets. Retailers are also finding ways to create a more local feeling in chain stores. Amazon 4-Star stores, for instance, feature select items that are trending locally.
3. Frictionless Trends: Removing Pain Points Through Checkout-Less Stores and Faster Same-Day Delivery
More and more retailers are focusing on creating a frictionless consumer experience by reducing or removing potential shopper pain points. This is evident in both the in-store experience as well as in last-mile fulfillment.
Examples
Checkout-less stores at scale. One major pain point is the checkout queue. Can that feasibly be removed? The answer to that – and a major trend for 2022 – is the checkout-less store.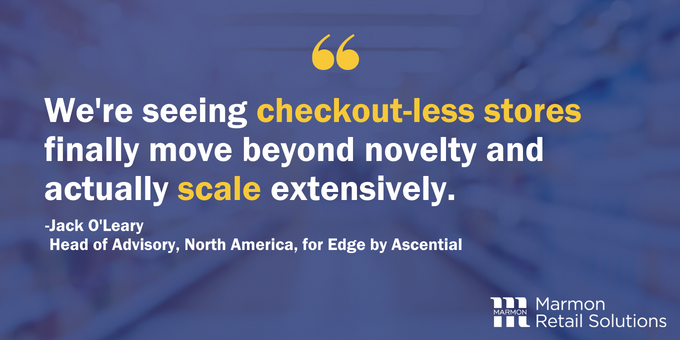 "We believe many consumers in 2022 are going to experience the checkout-less shopping experience for the first time," says O'Leary.
Here is, in essence, how checkout-less shopping works:
A shopper scans in and identifies themselves upon entrance to the store.

As the shopper selects items to place in their basket, the selections are tracked either through shelf weighting systems or computer vision technology.

When done, the shopper simply walks out of the store with their purchases and is automatically charged – no checkout experience of any kind necessary.
A range of stores globally are using checkout-less formats, including Amazon Go (U.S., U.K.), Giant Eagle (Eastern U.S.), Tesco (U.K., Europe), and emart24 (Asia).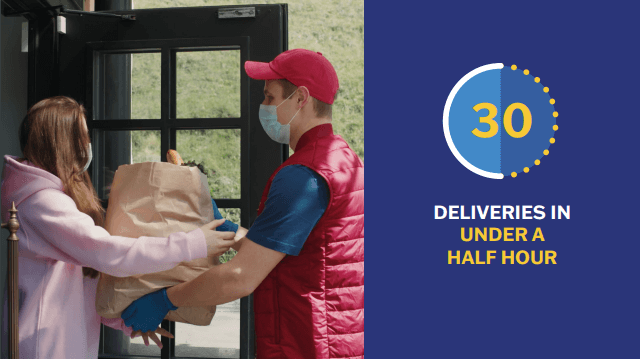 Faster same-day delivery. Let's turn from the in-store frictionless experience to home delivery. Retailers are making same-day delivery an increasingly attractive option for customers by reducing wait times.
As a result, a "delivery speed arms race," says O'Leary, is emerging, with retailers using physical stores as an asset for last-mile home fulfillment and e-commerce.
Kroger's Delivery Now, for example, is partnering with Instacart, and Asda is operating their one-hour express delivery service for more than a hundred stores.
"The idea here is that you can get a limited-selection assortment and ultra-fast speeds, under a half an hour in some cases," O'Leary says.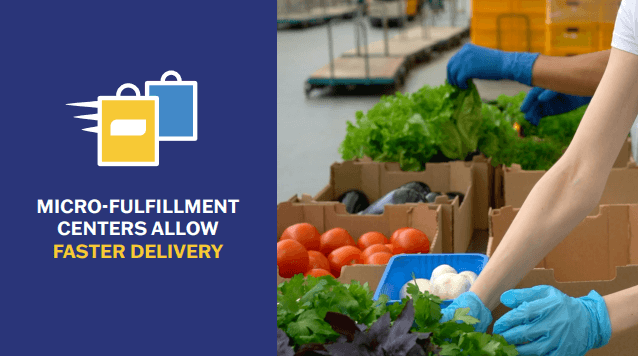 Startups with rapid delivery. The aforementioned "delivery speed arms race" is also leading to startups that are aligning around their own first-party rapid delivery.
Through partnerships and internal operations, Gorillas, for example, is providing fast-delivery enabled by micro-fulfillment centers.
"These are automated fulfillment centers," explains O'Leary, "with small footprints located in urban areas to get items to consumers faster."
4. Curated Trends: Providing Unique Assortments and Encouraging Personalized Discoveries
Look for more retailers in 2022 to present consumers with select products – and product experiences – they perhaps wouldn't necessarily encounter online.
You can see examples of a more curated environment from subjects we've covered above.
Examples
Curated products based on local trends. Amazon 4-Star stores are curating inventory by featuring products trending locally (see No. 2).
High-need curated products. The same-day purchasing opportunities offered by retailers such as Kroger and Asda present a curated selection of high-need items for fast home delivery (see No. 3). And checkout-less kiosks provide a limited selection but also enable an ultra-quick shopping experience (see No. 3).
Curated discovery experiences. ShopRite's Fresh to Table feature invites shoppers to scan a QR code, potentially leading them to new info, recipes, and related items they wouldn't have encountered otherwise (see No.1).
Also, Carrefour's media arm, Links, includes in-store shoppable screens based on highly detailed, geo-targeted info that can help generate more curated in-store experiences (see No. 1).
One Constant in a Sea of Change
Regardless of the topsy-turvy past couple of years, a primary goal of retailers hasn't changed: Maximize the likelihood for customer purchases.
Many of the 2022 trends help drive more foot traffic to stores, encourage longer dwell times, and build affinity for the retailer. Meanwhile, the faster turnaround for same-day delivery – thanks in part to using existing store infrastructure – can make this shopping option more attractive for many.
All of these factors can lead to more items in the cart, both the real and the virtual. And that's a trend every retailer should be pursuing.
Learn more about how these types of retail solutions can work for you.
Share This