Articles
Sustainability in Retail: Doing Right by the Environment AND Your Customers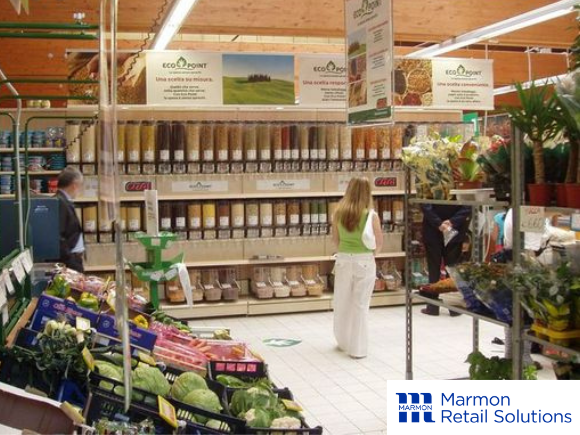 Retailers today are implementing sustainability measures at an unprecedented pace. Below, learn how they're demonstrating sustainability – plus, get a better understanding of what (and who) is driving the sustainability push.
According to retail consultant Jack O'Leary, Head of Advisory, North America, for Edge by Ascential, retailers around the world, across a broad spectrum of categories "are all making commitments" to sustainability "throughout their own value chains."
If you're a retailer wondering just how crucial it is to begin making those commitments, start with what your customers are thinking. O'Leary says they're the ones who are really going to drive "the entire retail and consumer ecosystem" in this direction.
Consumers Care About Sustainability
As more consumers place a priority on being better stewards of the environment, they'll also be holding brands and the retailers that sell them to a higher standard.
Here's just a sampling of supporting data that O'Leary reports from Edge by Ascential:
In the U.K., 97% of beauty product consumers would like brands to be more transparent about the ingredients they use.
In the U.S., 60% of consumers view climate change as a major threat to the well-being of the country.
In Germany, 85% of consumers think about the issue of sustainability as much as, if not more than, they did before COVID-19.
How Brands and Retailers Are Responding
Pledges and Initiatives from Retail Giants
Walmart's ProjectGigaton and Amazon's The Climate Pledge represent the respective corporate pledges from these retail leaders to reduce greenhouse gas emissions in their operational procedures.
In Amazon's case, other companies are invited to commit to the pledge, and there are currently more than 200 signatories across 26 industries and 21 countries.
The retailer is also using "Climate Pledge Friendly" badges on their website, identifying products that have gone through a certification process to demonstrate sustainability. According to O'Leary, such products have seen an increase in their conversion rate on Amazon.com, which is yet another indicator of consumer interest in sustainability.
Meanwhile, Walmart, in addition to project Gigaton, is part of a multi-company initiative, Race to Zero, in which retailers have pledged to take action to combat climate change.
Sustainability Commitments Not Just for the Giants
O'Leary says that numerous retailers across a spectrum of categories are making commitments to greenhouse gas reductions, sustainable packaging, deforestation prevention, and clean energy production.
In fact, in the process, new entities are emerging to facilitate sustainability initiatives, perhaps the most prominent being Loop.
Sustainability Initiative in Focus: Loop
Loop is a reuse platform derived from a partnership of manufacturers, retailers, and consumers who have the goal of "Eliminating the Idea of Waste®."
The essence of Loop is in the use of closed-loop packaging systems, i.e., reusable packaging, for a wide variety items, everything from soda to beauty products.
Loop is unique in that it requires dual buy-in – from both manufacturers who produce a given product and the retailers who serve as a point of refilling. (Note that Loop has both in-store and home delivery facets.)
But that added level of complexity hasn't hindered Loop's success as it continues to expand globally. According to O'Leary, retailers are making concerted efforts to garner shopper adoption of the reuse platform, giving Loop refilling stations prominent in-store placements. Examples include:
Loblaws in Canada
Retailers in the U.S., such as Kroger, Walgreens, and Ulta Beauty
Retailers in the U.K., Germany, and France, and expected expansions in Australia and Japan as well
Note that Loop is just one example of the new directions in reusable packaging (see below).
Expansion of In-Store Unpackaged Consumables
In grocery stores, items like nuts and candy, for instance, have long been made available as unpackaged goods for purchase in bulk.
But O'Leary says, "We're now seeing an evolution where the refillable stations have had such success [that] they're getting launched into the broader store environment … going into other new, additional categories."
Asda, Waitrose, DM – these are all examples of retail chains offering refillable stations for a variety of goods. O'Leary points to DM's use of Nivea shower gel refilling stations as one of the most interesting.
Retail Sustainability and Green Privilege?
There is a concern that the sustainability space may be catering only to the higher-price-point consumer. But according to O'Leary, "[W]hen we look at our discounters around the world … all of them are engaging in these initiatives as well."
Lidl, Aldi, and Dollar General, for example, are showing their commitment to sustainability by, for instance, providing compostable fruit/vegetable bags and carrying products that use more humane animal husbandry practices.
Keep Your Focus on Where This "Interdependent System" is Headed
O'Leary says it's important to keep in mind that the sustainability movement in the retail industry is an "interdependent system."
Yes, consumer concerns and preferences are huge drivers. But governments are also making pledges in relation to the operations of their overall economies. Plus, they're passing legislation and enforcing sustainability-related regulations.
Meanwhile, more and more companies continue to implement sustainability practices, not only to send a signal to their customers but also to gain the benefits that can come with tax credits and tax deductions.
"Sustainability is a really important topic," says O'Leary, "and one you should be watching very much in detail."
Learn more about how these retail solutions can work for you.
Share This