Articles
Pick Faster AND More Accurately: Understanding the Cost vs. Benefits of Picking Carts
Get help estimating the total cost of ownership for picking carts AND see how they can improve your click and collect.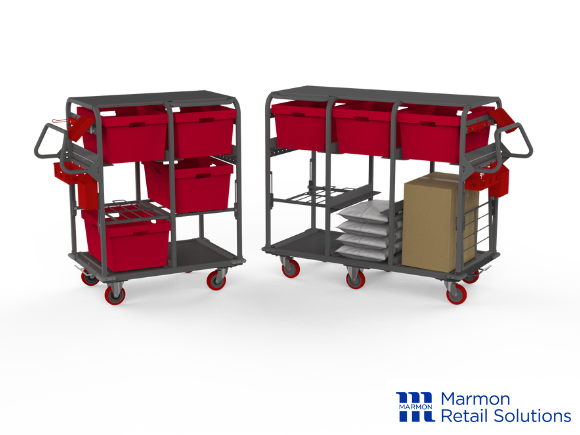 Establishing the total cost of ownership (TCO) for custom picking carts can be challenging. Our TCO model provides a framework to balance the investment with the potential impact the picking carts can have on your click and collect services.
Providing click and collect is becoming a necessity in today's competitive grocery landscape. But offering the service without losing money is another story. As a result, more and more grocers are looking to reduce the extra labor costs of click and collect—especially at the picking phase.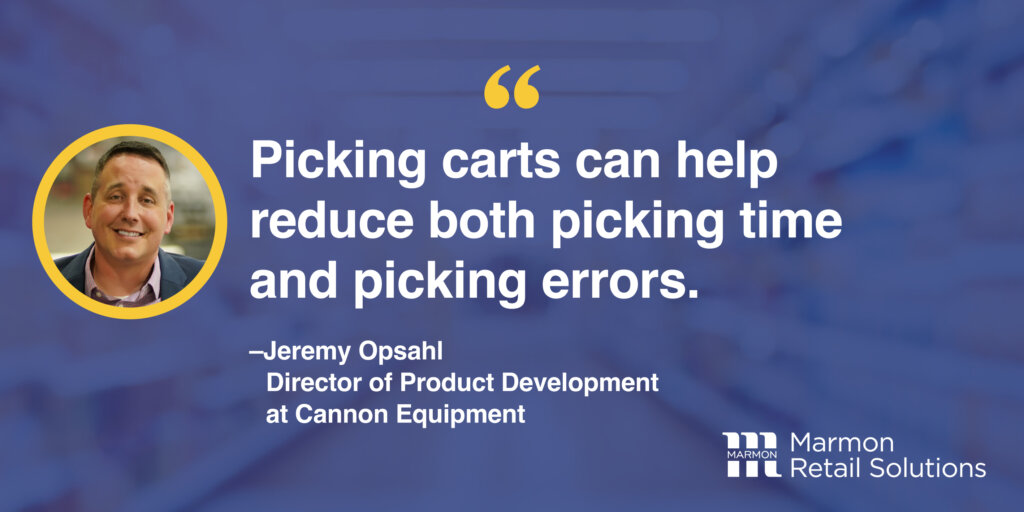 "Picking carts can help reduce both picking time and picking errors. Those are two significant ways to ease the overall cost burden of click and collect," says Jeremy Opsahl, Director of Product Development at Cannon Equipment.
They're also factors—beyond the upfront cost—that you need to consider if you're thinking about purchasing picking carts. That's why understanding the TCO is so important. Let's use our model to help determine the potential TCO for picking carts.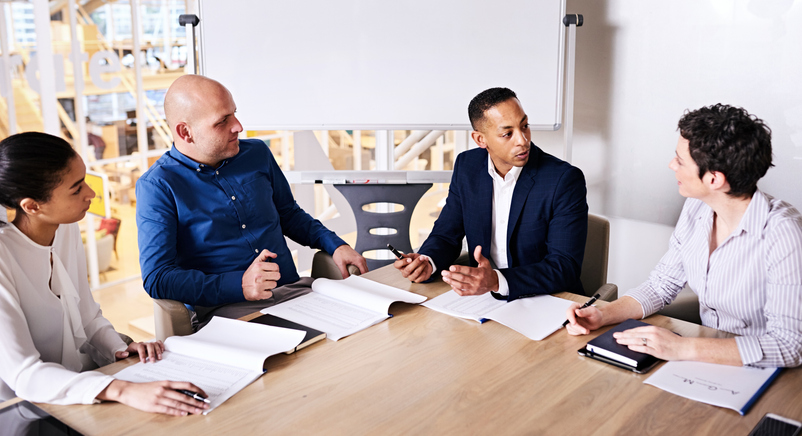 Factor 1: Upfront Investment
We start at the obvious place, the price tag. Since you're likely already providing click and collect, that means you're probably using existing shopping carts. Understandably, investing in picking carts can induce a degree of anxiety.
The size of a new fleet of picking carts will depend on the number of stores you're purchasing for and your estimated click and collect volumes. You'll also need to purchase the appropriate picking totes to go with them.
One positive note here is that, due to the nature of their use, picking carts take less abuse than shopping carts and therefore have a longer performance lifetime. Opsahl from Cannon Equipment says with proper use and minimal maintenance, a quality picking cart should last several years.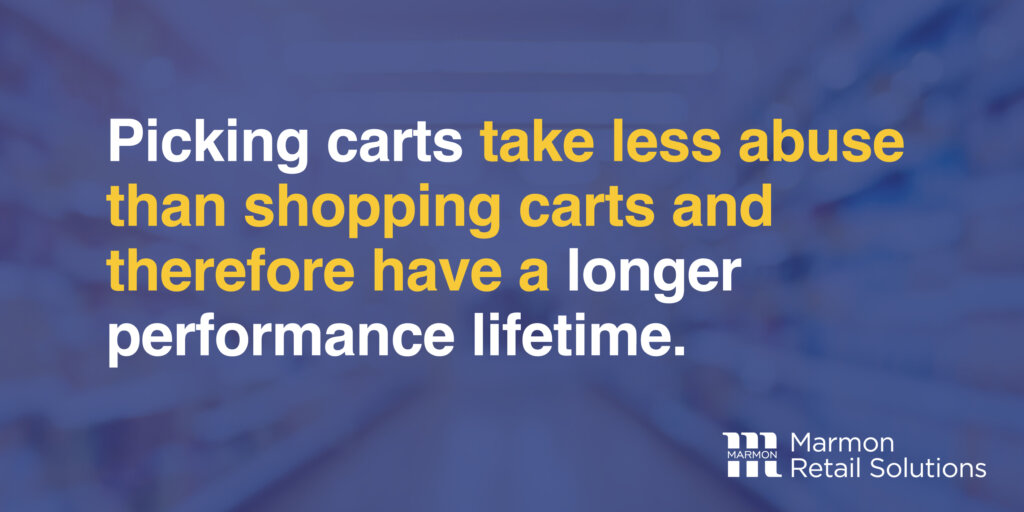 Quantify Your Current Picking Process as Much as Possible
To understand how you can offset that initial cost, you want to formulate a TCO that's as accurate as possible. Opsahl says to be sure you identify current quantifiables and picking procedures, starting with these:
How many orders you pick daily
How long it typically takes an associate to pick a full order
How much you pay a typical picker per hour
Whether you pick single orders at a time, pick multiple orders at once, or zone pick
Whether you use totes or not
Factor 2: Overall Picking-Cart Effectiveness
Factor 2 is where the real fun begins. It integrates the potential benefits that come with custom picking carts, which include gaining advantages in at least three key ways:
Picking more efficiently
Picking more accurately
Retaining more customers
Let's dive deeper into each of these.
Advantage 1: Pick More Efficiently
To get an accurate picture of how picking carts can boost efficiency, Opsahl gives the following scenario with estimated picking time minutes. Note that one order is equal to approximately three totes.
Without a picking cart:
1 employee picking one order at a time into a shopping cart = 25 minutes/one order
With a six-tote picking cart:
1 employee picking two orders at a time into picking cart = 35 minutes/two orders
The average picking time per order with a six-tote picking cart is now 17 minutes vs. 25 minutes the old way. Extrapolating those eight fewer minutes over, for example, 100 orders a day reveals 13 labor hours saved. "Now imagine the labor hours saved over an entire year," says Opsahl.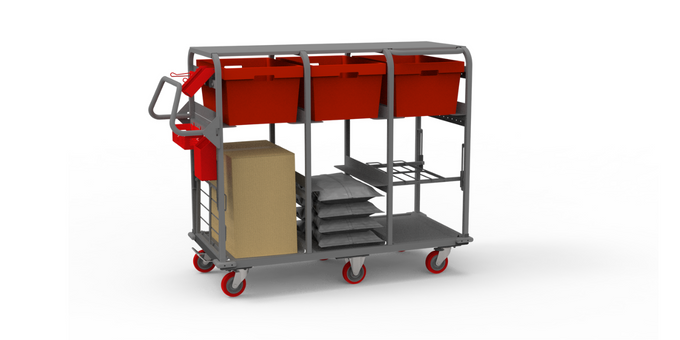 You can also run the numbers with a nine-tote picking cart, which allows an employee to pick for three or more orders at a time, thereby yielding even greater efficiency.
Advantage 2: Pick More Accurately
Picking carts equipped with totes help keep orders from getting mixed up, minimize the number of touches required, and ultimately reduce errors. And the picking carts themselves can be configured so employees have everything they need right on the cart, thereby minimizing potential distractions and interruptions.
How significant is the accuracy factor? Opsahl says, "Even if you're doing 100 orders a day with 99% accuracy, that still means one order mistake per day."
He breaks down a scenario in which a customer drives away with four bags of groceries and one wrong bag among them. "First, you'll have to pay for the labor it takes to collect new items. On top of that, you'll need to pay for the items you now have to give away because someone else ended up with them."
Given typical grocery profit margins, he estimates it would take roughly 26 error-free orders to make up the profit for that one wrong order.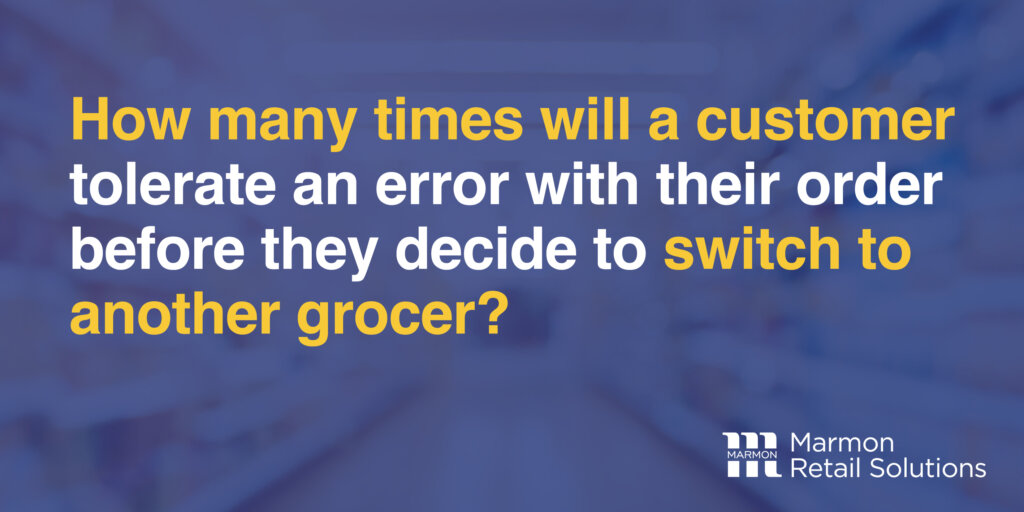 Advantage 3: Retain More Customers
We just covered a scenario where there's a picking order mistake. But we didn't address the customer's potential response to that mistake. How many times will a customer tolerate an error with their order before they decide to switch to another grocer? Do you really want to find out?
Customers satisfied with their click and collect experience will obviously be more likely to return to you. On the other hand, when they become frustrated from order mistakes and decide to use another grocery store, where does that leave you?
Consider these estimated numbers for a family of four's grocery purchases:
Family of four @ $200/week or $800/monthly x 12 months = $9,600 annually
"Now think about the lifetime value of just that one customer," says Opsahl.
Factor 3 -The Big Picture Intangibles
We've provided insights to help quantify the potential TOC for an investment in picking carts. But you also need to consider important intangibles like the following.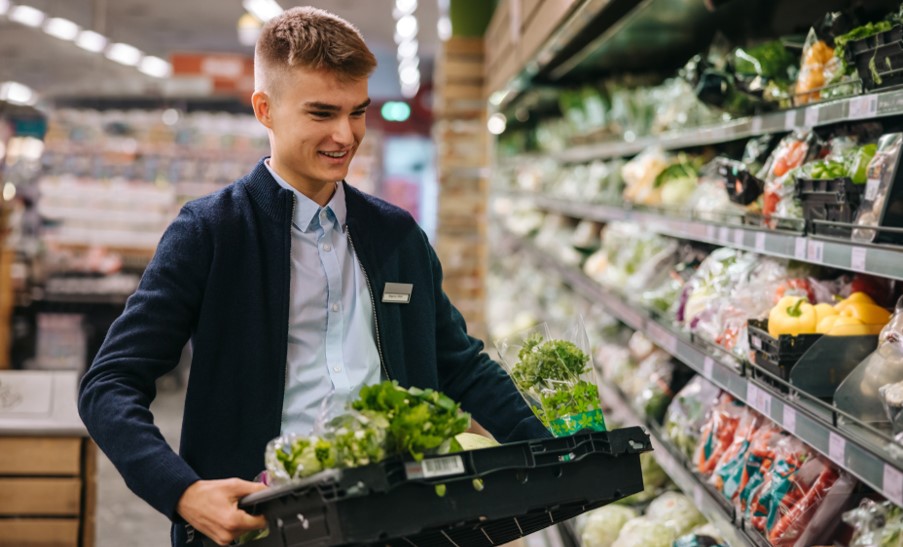 Maximize the Labor You've Managed to Find
If you've struggled to find enough help, then you know just how important it is to make the most of your current labor. Opsahl says having pickers that are more efficient can free up time for other important store tasks.
"Let's say you had 15 employees dedicated to picking orders. But thanks to the time saved with picking carts, you can now devote three of them to straightening and restocking shelves—and, more generally, making customers happier."
Create "A Positive Ripple Effect" to Gain Market Share
When you can outperform your competition by picking faster with picking carts, that ultimately leads to orders being available sooner for pickup. That's no small factor considering rising customer expectations for order turnaround, says Opsahl.
Also, factor in the reduced error rate that picking carts can help generate, and you're not just retaining more customers—you're making it more likely that they'll sing your praises to others. Keeping these points in mind, says Opsahl, will help you see the bigger picture.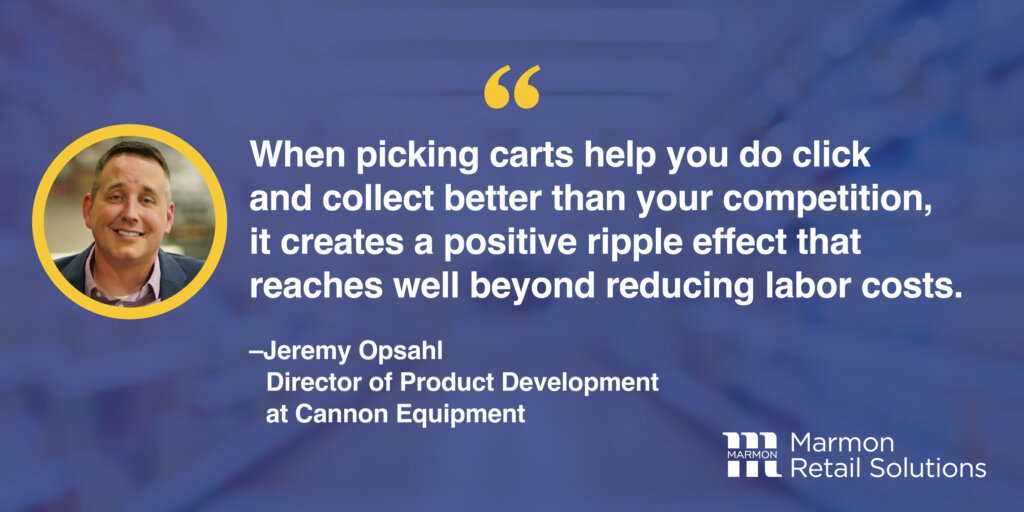 Your Next Move: Calculate How a Custom Picking Cart Could Benefit You
You've just learned about a number of advantages to using picking carts for your click and collect. Could investing in picking carts be worth it for you?
Go a step beyond the hypothetical numbers and start estimating your own potential TCO.
Cannon Equipment offers a picking cart calculator. Just input your store information, and the calculator will estimate the daily labor hours and costs you devote to click and collect. You'll also get picking cart suggestions specific to your needs.
Room for Improvement Everywhere: Beyond Click and Collect
Improving your click and collect process is certainly important. But what about all the other challenges emerging in the new normal of grocery shopping?
As you attempt to manage everything from labor shortages and store refurbishments to changing shopping behavior, your need for smarter solutions is more important than ever.
Marmon Retail Solutions provides integrated products and services that allow your retail improvements to be carried out more strategically, more cost-effectively, and ultimately more successfully.
Learn more about how these retail solutions can work for you.
Share This