Articles
Global Discount Store Update: Growth Projections and Major Trends for This Expanding Retail Channel
Our global discount store update includes stats on this retail channel's astounding growth rate and insights on the major trends shaping its future.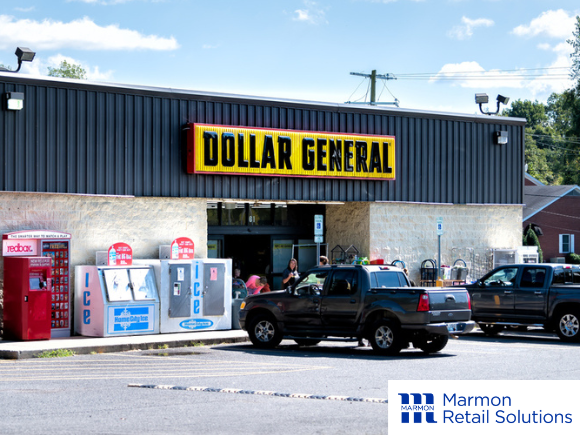 The discount store channel is growing at an extraordinary rate. But why?
One key reason is "the broader macroeconomic environment that discounters are thriving and winning within," says Jack O'Leary, Head of Advisory, North America, for Edge by Ascential.
More specifically, it's an environment characterized by stubborn inflation as well as evolving consumer preferences, making the demand for discount stores and their lower price points extremely intense.
Check out the projected global numbers, learn more about the major players, and see the trends that are shaping the future of this rapidly expanding retail sector.
What are the Characteristics of a Discount Retailer?
Before we delve into the state of the discount store channel, let's clarify its defining features. For O'Leary and the research team at Edge by Ascential, the stores within this channel exhibit the following characteristics:
They operate small-format brick-and-mortar stores.
They provide a limited assortment of items.
They often focus on selling private label products.
They offer items in smaller pack sizes at lower price points.
Although these retailers may vary in their strategies and store experiences, O'Leary says, they "all are very much oriented around that price point and that specific store size."
The Biggest Markets for Discount Stores: U.S. and Germany Dominate
The U.S. and Germany are far and away the largest markets for this retail channel, says O'Leary, with the two countries accounting for more than 42% of global channel sales.
But other countries are showing marked growth as well. The U.K., for example, is expected to grow at an impressive 8.5% compound annual growth rate (CAGR) from 2022 to 2027, showing it's "an area of tremendous transformation in terms of discount retailing," says O'Leary.
Based on research by Edge by Ascential, here are the top 10 markets for the discount channel.
United States
Germany
United Kingdom
Poland
Italy
France
Canada
Norway
Mexico
Russia
See the graphic for more details, including CAGR projections through 2027.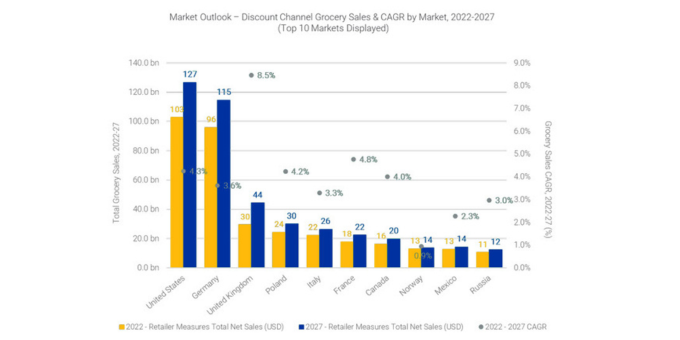 The Top Performers: Finding Success with Varying Market Strategies
Major players in this channel vary in their market penetration strategies. Worldwide, the top performers are the Schwarz Group (which includes the Lidl banner) and Aldi. Combined, these two discounters operate in more than 40 markets.
Meanwhile, discount powerhouse Dollar General dominates in the U.S. market yet has only recently entered its second market, in Mexico.
Based on research by Edge by Ascential, here are the top 10 discount retailers in terms of projected performance outlook:
Schwarz Group (Lidl)
Aldi Süd
Aldi Nord
Dollar General
Jerónimo Martins
Walmart
Edeka
Rewe Group
Dollar Tree
Reitangruppen
Check out the graphic for more details on the leading discount retailers worldwide, including CAGR projections through 2027.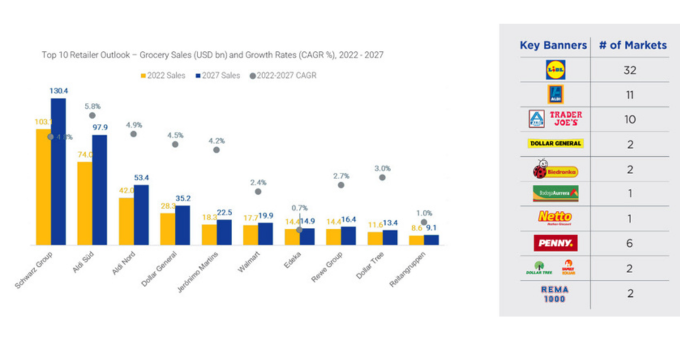 Strategic Trends for the Discount Store Channel
Let's move from the global landscape to the major in-store trends we're seeing as discounters vie for more market share.
Trend: More Conscious Product Curation
Discounters are curating their product assortments more consciously, says O'Leary, in order to meet new areas of consumer demand. At the same time, they're still focused on providing low-priced household staples.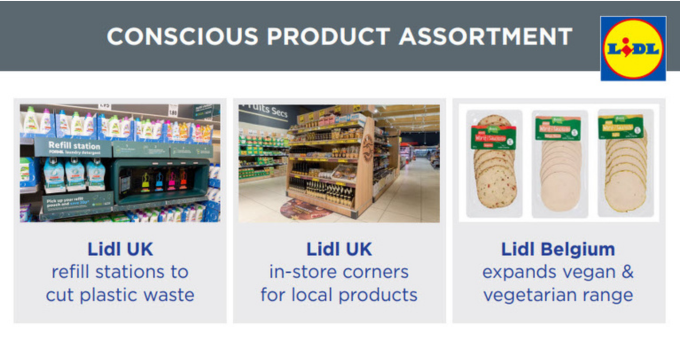 Lidl, for instance, is carrying out initiatives like these:
Lidl UK has installed refill stations for their private label laundry detergent in an effort to offer more sustainable options.
Lidl UK has introduced end-caps that feature local items to appeal to a growing demand for localized options.
Lidl Belgium has expanded its range of plant-based meat substitutes with an additional 73 vegan and vegetarian options to meet a growing consumer preference for meat alternatives.
Trend: More Digital Activity
Traditionally, this sector has lagged behind other retail channels when it comes to digital initiatives. But O'Leary says that's changing.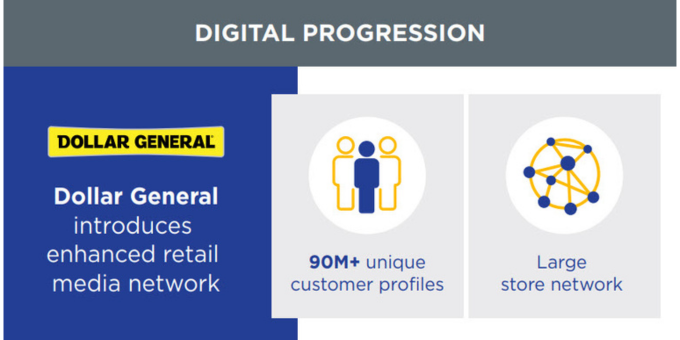 Dollar General exemplifies this with its enhanced retail media network, DGMN. According to O'Leary, the retailer claims more than 90 million customer profiles and touts their large store network as a distinct advantage for serving digital ads to consumers.
Trend: Proximity-based Retailing and Evolving Store Formats
New developments can also be seen where discount retailers are building their typically smaller-format stores. In addition, the formats themselves are being modified to better fit with a given store's location.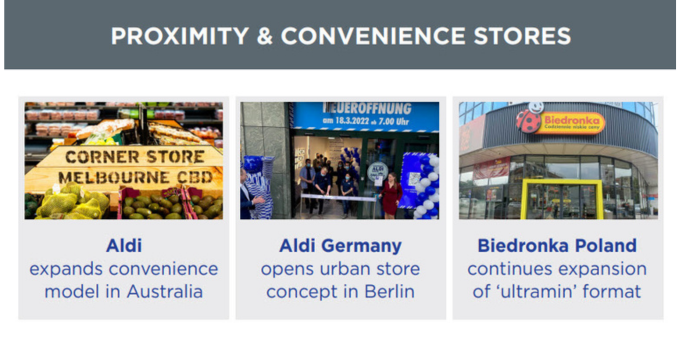 Aldi is designing convenience-based stores in select high-density urban areas in, for example, Berlin. And in Australia, the discount retailer has launched its own Corner Stores in Sydney and in Melbourne's Central Business District, or CBD.
Similarly, Biedronka Poland continues to roll out ultra-mini format stores to tap into locations unsuitable for full-sized stores.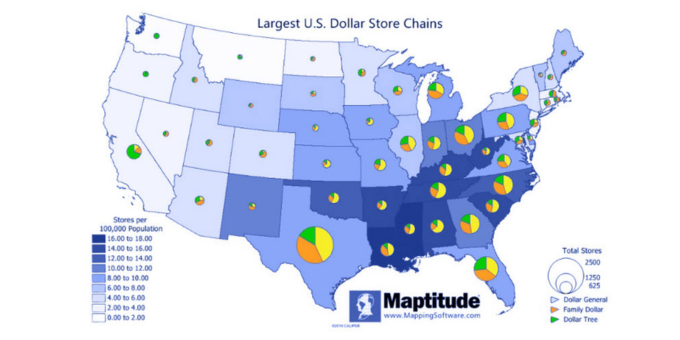 In the U.S., a major proximity-based trend can be seen with discount retailers aggressively expanding into underserved rural areas.
That phenomenon plays a significant part in the U.S. growth projections for this sector, with more than 8,700 discount stores estimated to be added between 2017 and 2027.
"When we look at our U.S. database and we look at store network growth," says O'Leary, "discounters are adding the most stores by a long shot." See the graphic below for more details.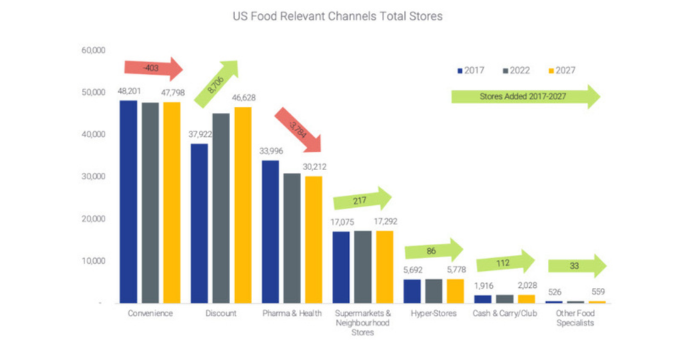 Summing It Up: Discounters Take Advantage of a Favorable Operating Environment
The discount store trends we've explored above indicate a retail channel that's poised for continued—and impressive—growth.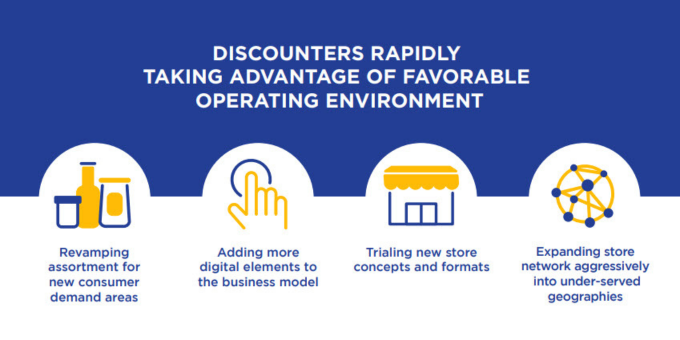 These trends "sum up the themes to think about strategically when we're looking at the discount outlook," O'Leary says.
For more information on discount stores, be sure to also check out this blog post: Discount Store Industry Analysis: A Retail Sector That's Adapting AND Thriving.
Learn more about how these retail solutions can work for you.
Share This