Articles
Bulk Foods Department 2.0: Tips to Increase Sales and Attract a New Generation of Shoppers
Get practical tips for a great-performing bulk foods department AND find out what to look for in a bulk fixtures supplier.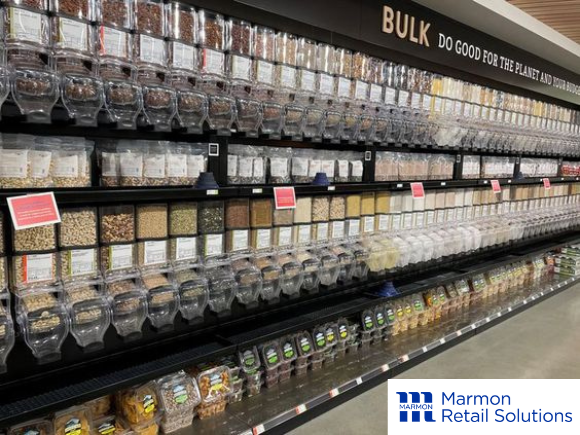 Providing in-store customers a bulk foods department generates benefits for both the retailer and the shopper. Learn why there's a renewed interest in bulk buying, get practical tips for a great-performing bulk foods section, and find out what to look for in a bulk fixtures supplier.
Yes, refillable bulk foods departments have been around for decades. But they're getting increased attention from a range of retailers, from major chains to small independents like Brooklyn-based Precycle. One major reason? Shopper demand.
More and more consumers are placing a priority on being better stewards of the environment. That means they're also looking for more sustainable ways to shop. Refillable bulk food sections can be a great way to reach them and in the process build a more loyal shopper following.
The Benefits of a Bulk Foods Department: Meeting Sustainability Demands is Just the Beginning
Sustainability-minded shoppers are out there with a number of concerns. Consider a recent customer survey on grocery store sustainability. Conducted by Kroger analytics subsidiary 84.51°, the survey revealed the highest response rates with the following issues:
Consumers concerned with limiting food waste (45%)
Consumers seeking reusable packaging (34%)
Consumers concerned with overall sustainability when shopping (29%)
Consumers focused on reducing plastic purchases (29%)
Notably, all of those points dovetail with the benefits a refillable bulk section can bring to shoppers. More specifically, purchasing items from the bulk section empowers those shoppers to:
Reduce package waste by replenishing items in reusable containers or, at the least, using options that involve considerably less packaging such as recyclable paper bags.
Use a shopping method that, compared to online buying, involves less transportation and no delivery packaging.
Buy in self-selecting quantities, which can be a great way to respond economically to rising food costs and prevent food waste.
Offering an Internal "Farmers Market": Bulk Benefits Beyond Sustainability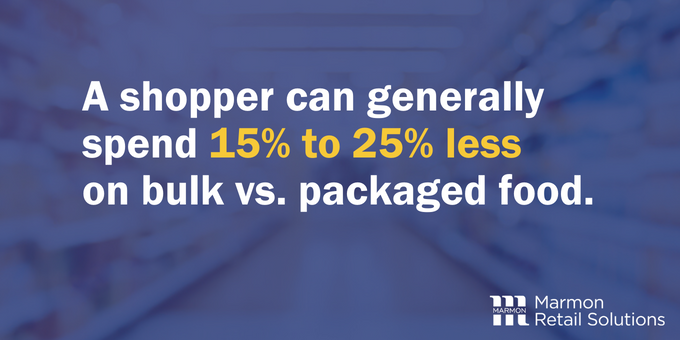 The benefits of buying refillable bulk foods aren't just appealing to ardent sustainability enthusiasts. All shoppers can gain advantages like these:
Typically lower prices. A shopper can generally spend 15% to 25% less on bulk vs. packaged foods. Saving money is top of mind for many shoppers, especially in recent years. For example, in a survey from commerce research firm Inmar Intelligence, 68% of U.S. consumers reported shopping at a different grocery store to find lower priced items.
Opportunities to experiment with new foods. The advantage of self-selecting quantities (mentioned above) also means shoppers can purchase novel items more freely, experiment with them at home, and return to the bulk section for more when they make pleasant discoveries.
Shopping that's more experiential (think farmers market). Shopping in the bulk foods area can be extremely enjoyable – and has no online equivalent. An effective bulk foods department creates a farmers market-like feeling, with shoppers walking through a visual feast of colors and exotic ingredients, as well as intriguing staples.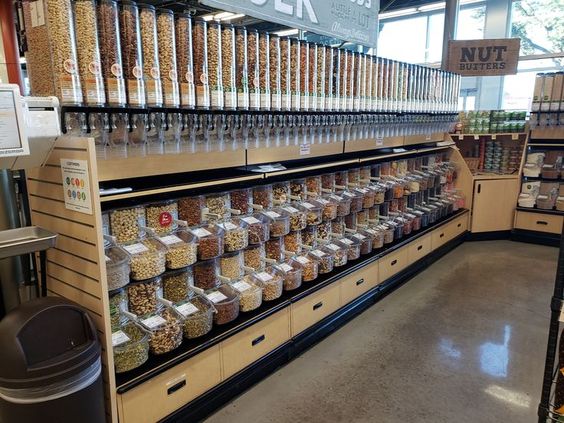 Expert Tips to Maximize the Performance of Your Bulk Foods Section
Shopper benefits like those described above mean bulk foods departments hold tremendous potential to increase sales and generate return customers.
But it's not enough to just install a bulk foods section. To make your bulk foods department a true asset requires strategy and ongoing attention.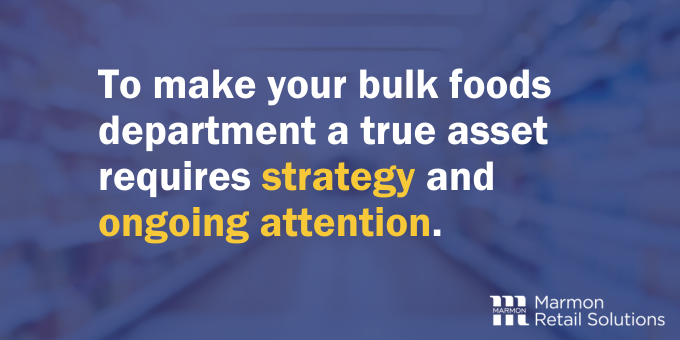 Retailers who consider factors like the following are much more likely to get a greater return on investment for their bulk foods departments.
Make the Food the Star with the Right Placement and the Right Fixtures
The array of colorful foods in a bulk foods department can be a powerful lure to shoppers and can encourage impulse buying. You can make the most of this by placing your bulk fixtures near the store entrance in a highly visible area.
In selecting bins and other fixtures, focus on maximizing the visibility of the food. You want to come as close as possible to making the food the only thing people see.
This is precisely why you want bulk solutions that are not only predominantly clear but are also resistant to haze, scratches, and stains.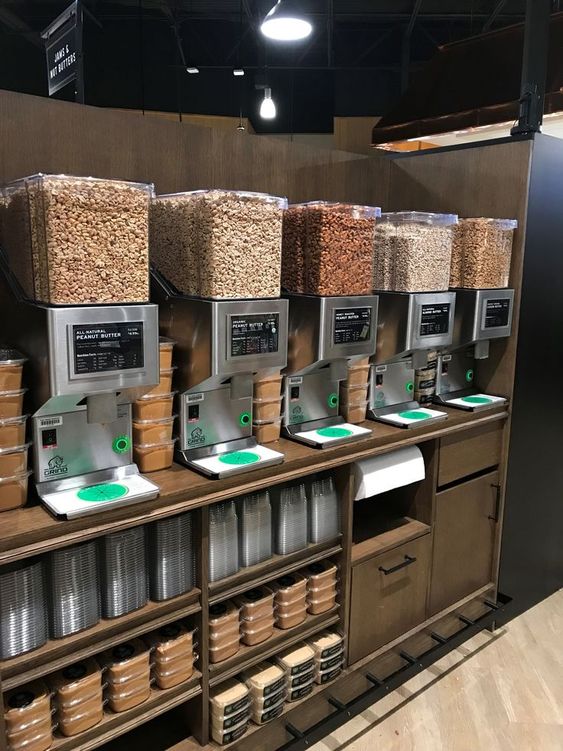 Make That Food Pop with Good Lighting
For years, cosmetic departments have been using the interplay of clear surfaces and strategic lighting to make products pop. You can do the same for your bulk foods section.
By giving the section its own unique lighting, it can stand out from other parts of your store, almost like a store-within-a-store. You can even strategically spotlight specific areas or items within the section.
Use Signage to Instruct and Inspire
Once a shopper is in the bulk section, the last thing you want is to have them scratching their head thinking, "How on earth do I do this?" Provide clear, step-by-step instructions for dispensing and weighing food, printing labels, and whatever else a shopper that's new to the section must know.
Also, use signage to explain pricing, describe items, and even provide recipe cards to further promote select items.
But these aren't the only reasons for signage in a bulk foods department: Use it to explain how buying refillable bulk food is both good for the shopper and the environment. In addition, remember to share your corporate message on sustainability through effective signage.
Keep Bins Full and the Entire Section Clean and Tidy
Fuller bins are more inviting and encourage the perception that the food is fresh – more specifically, fresher than what's been sitting in a package.
Closely related, an effective bulk foods section should be clean, well organized, and free of spilled products. The extra attention this requires from employees will pay off; well-maintained bulk sections attract more shoppers and ultimately sell more food.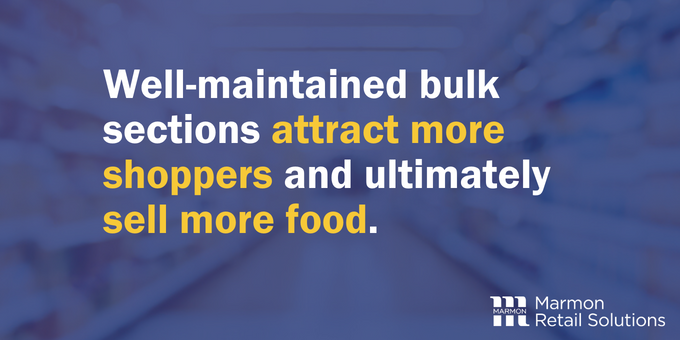 Have Extra Bins and a Regular Washing Rotation
Washing bins regularly creates a more sanitary shopping area and also helps your bulk section look great. By purchasing extra bins, you can maintain a consistent cleaning schedule more easily, rotating bins in and out as needed.
See below for more on the importance of using bins that are safe for a commercial dishwasher.
What to Look for in a Bulk Fixtures Supplier
For retailers, bulk foods can yield much higher profit margins than other products – depending on the item, anywhere from 10% to 30%. Yes, upfront fixture costs will likely be higher than standard shelving. But that doesn't mean you should opt for lower quality bulk fixtures.
When they start to malfunction or begin showing stains and scratches, you could be replacing those bins much sooner than you'd prefer. And that means you end up paying more than if you would have just purchased good-quality bins in the first place.
That's just one among many considerations to make when searching for a reliable bulk fixtures supplier. Keeping questions like the following in mind will help:
Can the supplier provide a complete solution? You want a supplier who can provide design support so you can organize your bulk space efficiently. They should also be able to offer specialized bins with an agitation feature, which prevents certain products from caking and keeps them flowing freely.
Can the bins and dispensers be washed in a commercial dishwasher? Keeping your bulk fixtures clean is arguably more important today than ever. But you also want a convenient way to do that. Find out if the supplier's dispenser can be washed safely in a commercial dishwasher, which typically has a rinse cycle water temp of around 180°.
Are retrofittable bins a possibility? Let's say you want hand-operated gravity dispensers for now, but you might consider a no-touch line of bulk dispensers down the line. Is it possible to retrofit your dispensers with the latest technology, or will you have to buy completely new dispensers?
What's the supplier's policy on replacement parts? If something breaks, do they offer replacement parts, or will you have to purchase a whole new bulk section?
What does the supplier say about the durability of their bulk solutions? Quality bulk dispensers and fixtures should easily perform well – and look great – for at least 10 years, if not more. Be sure to ask about scratch- and stain-resistance. Also, see if the supplier is willing to do a drop test – or a similar demonstration – to show how strong their bins are.
Are the bulk solutions simple to use? The bulk food department is unique in the demands that it puts on the customer to engage with the product. Look for a total solution that minimizes those demands and is user-friendly. Don't forget that the bulk set should be made so employees can easily refill bins and remove them for washing.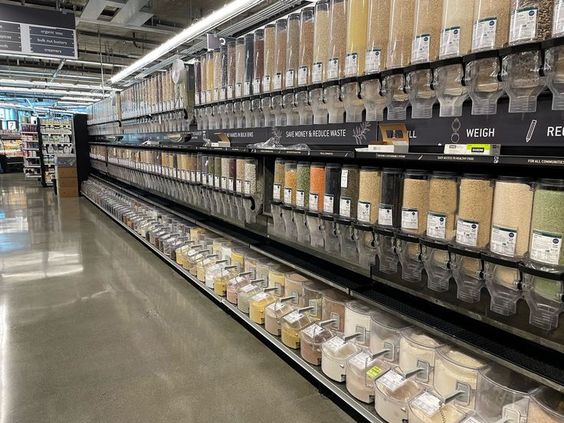 Remember: Your Bulk Foods Department is Just One Part of an Overall Strategy
You've just learned ways to create a more successful bulk foods department. Quality bulk bins and fixtures, expert design support, exceptional supplier service – these factors can go a long way in helping your bulk foods department perform well.
But what about the rest of your store? To maximize the potential of any store section, you ideally want an approach that, for example, integrates the following into your store improvement efforts:
Custom retail merchandising throughout your store, from impulse items at the check-out counter to grocery essentials around the perimeter.
Efficient backroom processes that help get stock – whether bulk foods or packaged goods – out front more efficiently AND create better organized systems for the click and collect option.
Improved remodel and new-build programs that greatly reduce your points of contact, help you meet changing customer expectations, AND empower you to overcome rising costs, longer lead times, and supply chain interruptions.
Marmon Retail Solutions provides integrated products and services that allow your retail improvements to be carried out more strategically, more cost-effectively, and ultimately more successfully.
Learn more about how these retail solutions can work for you.
Share This