Articles
Retail Refurbishments for the Changing Consumer: Examples from Top Retailers
Check out the latest trends in retail store refurbishments, with examples from North America and Europe.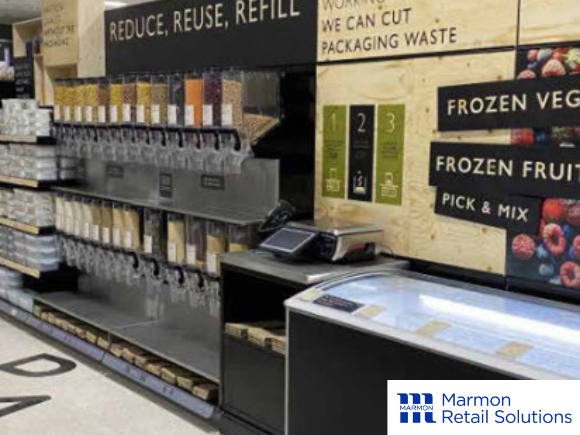 Around the world, retailers are strengthening their existing assets by making a variety of store refurbishments. Find out what they're doing to extend and transform their legacy store networks, with examples from both North America and Europe.
"Retailers are revitalizing their store environments" to meet the demands of the changing shopper, says retail consultant Jack O'Leary, Head of Advisory, North America, for Edge by Ascential.
With the help of O'Leary, we'll take a closer look at the kinds of refurbishments retailers are implementing.
Check out this video on major refurbishment trends in North America and Europe with retail consultant Jack O'Leary, part of our What's in Store video series.
Capex Pouring into Refurbishment Efforts
Based on research conducted by Edge by Ascential, O'Leary says, "Retailers are devoting significant investments in revamping their store networks."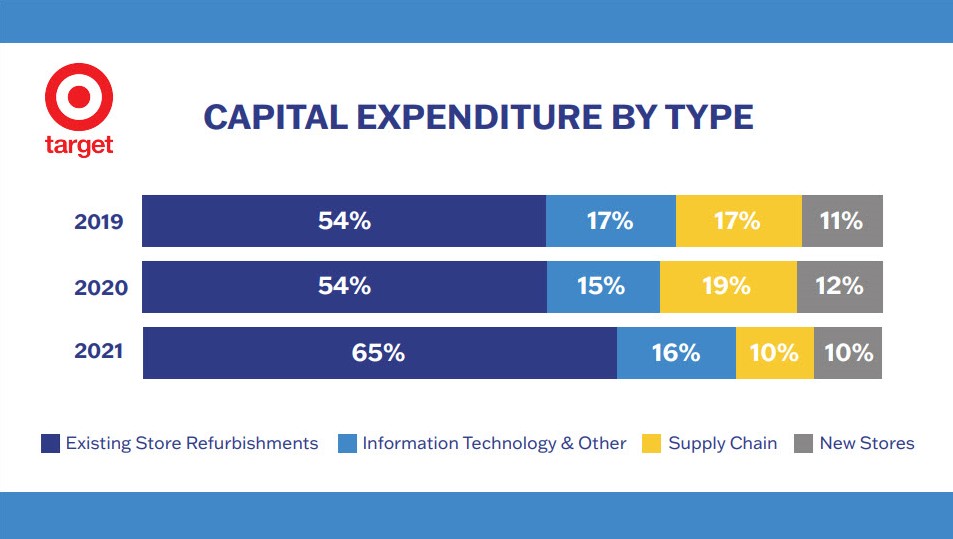 In the U.S., mass retailer Target, for example, has raised capital expenditures on refurbishments from around 54% in 2019 to 65% in 2021.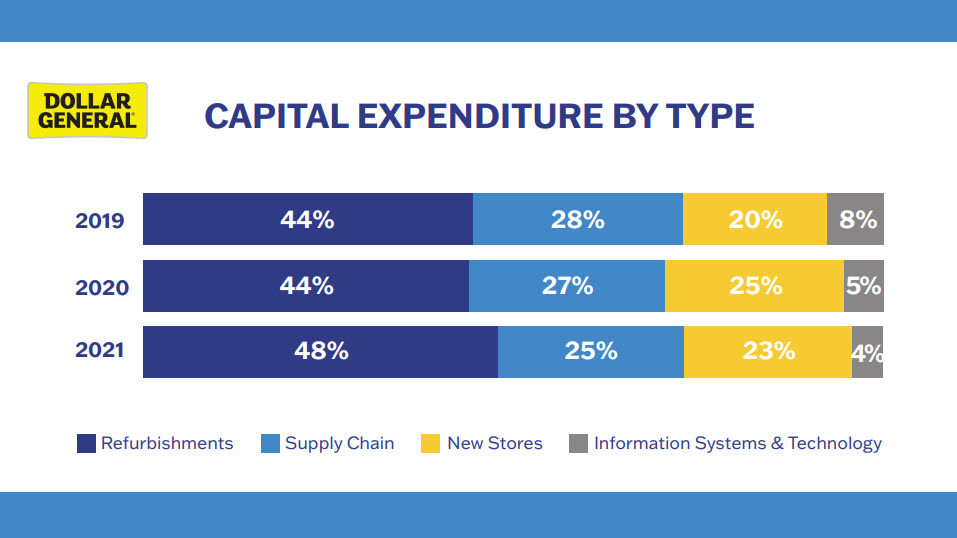 Similarly, in the discount store channel, Dollar General has increased refurbishment expenditures from 44% in 2019 to 48% in 2021. (See Discount Store Industry Analysis: A Retail Sector That's Adapting AND Thriving for more details on this growing sector.)
Meanwhile, mass retailer Marks and Spencer is devoting anywhere from 23% to 26% of its capital expenditures to store refurbishments in the U.K.
On the continent, based on data going back to 2017, grocery giant Jeronimo Martins has been steadily refurbishing hundreds of stores each year, with 356 such projects in 2021 alone.
What Retailers are Doing to Refurbish Stores
But just how are retailers implementing refurbishments? O'Leary and his team found a wide range of strategies, as the following graphic indicates.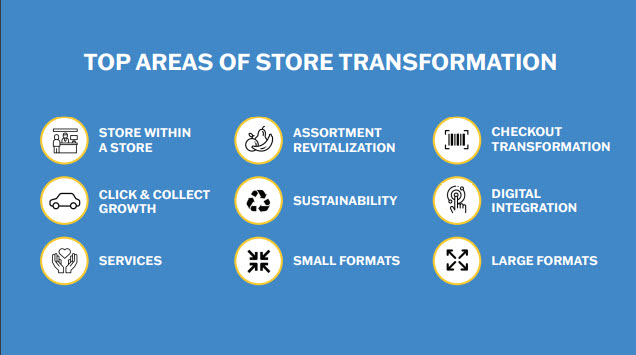 From those, O'Leary identifies several stand-out areas for North America and for Europe.
Top Refurbishment Examples in North America
1. Store within a store. The rationale behind this approach is that retailers can outsource "best-in-class merchandising," as O'Leary describes it, to other brands or other retailers.
More specifically, O'Leary says, "Retailers can redeploy their store space with really meaningful, immersive … merchandising" that leverages the category expertise of an external partner.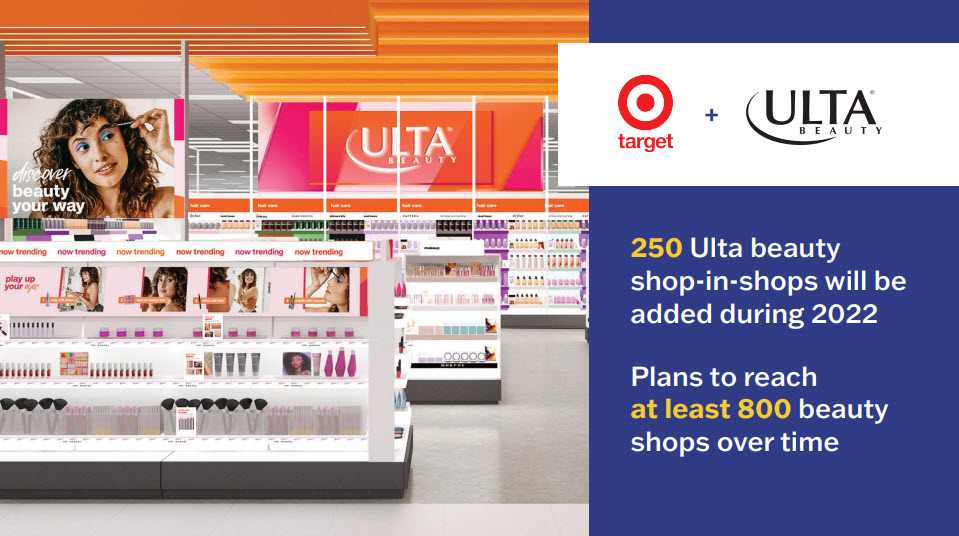 He points to the partnership of Target and Ulta Beauty as a good example. Target added 100 in-store Ulta beauty shops in 2021. The retailer hopes to add 250 more in 2022 and has a long-term goal of installing 800 of these in-store shops.
2. Digital integration. Brick-and-mortar retailers are also incorporating more digital technology to benefit both shoppers and operations, says O'Leary.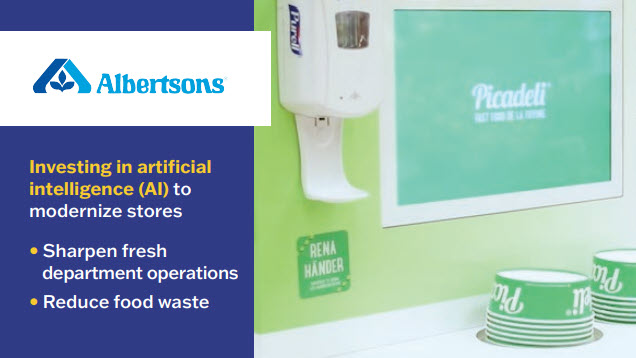 Grocery retailer Albertsons, for example, has partnered with Afresh Technologies to improve its fresh food offerings. Through an AI-powered technology, store employees can better predict demand as well as monitor inventory levels. In the process, shoppers enjoy ultra-fresh foods while the retailer reduces food waste.
The in-store shopping experience can also be an excellent opportunity for shoppers to use digital technology via their mobile phones, says O'Leary.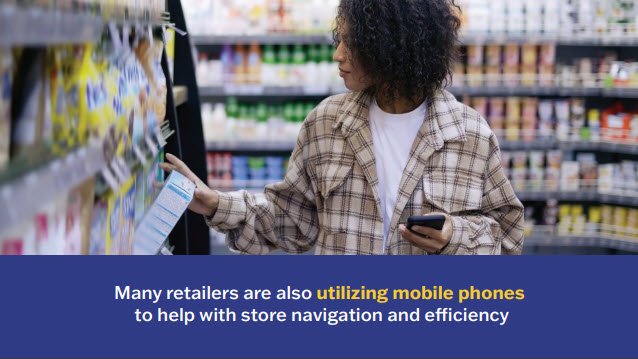 Walmart and numerous other retailers are finding ways for shoppers to use mobile phone apps to navigate the store environment, find items more quickly, and help their in-store shopping experience be more efficient.
3. Click and collect extension. According to O'Leary many major retailers have identified click and collect capabilities as a prime area for expansion.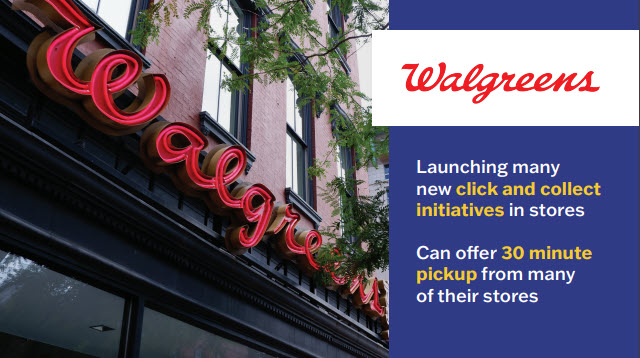 Drugstore leader Walgreens, for instance, has launched a click and collect initiative across its stores. Leveraging its neighborhood location strategy, the retailer offers 30-minute pickup in some cases.
Also, Albertsons launched its DriveUp & Go™ curbside pickup option in more than 2,000 of its grocery stores.
Top Refurbishment Examples in Europe
1. Store within a store. Similar to North America (see above), the push for incorporating store-within-store models in Europe is growing in popularity, says O'Leary.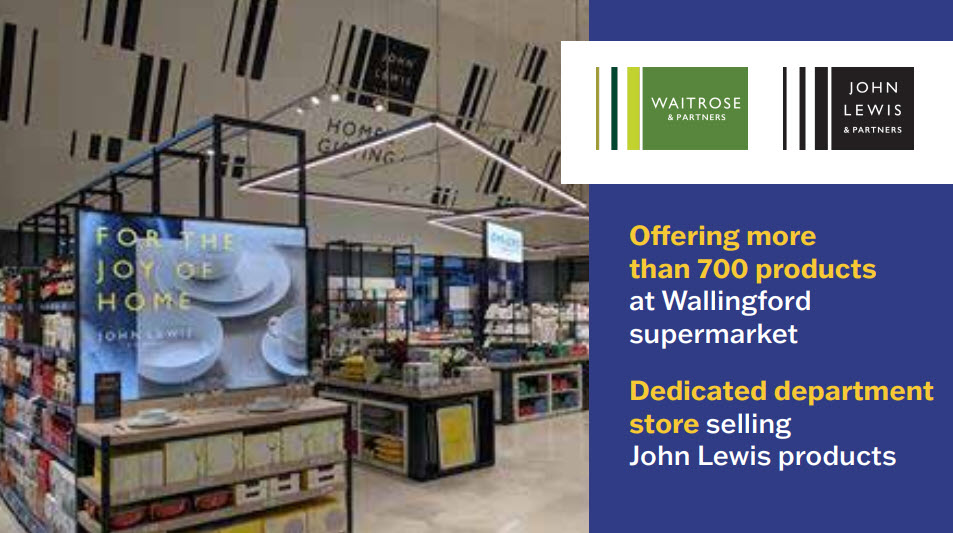 One especially compelling example of this is from Waitrose. The grocery chain is installing dedicated spaces with home goods products from corporate partner John Lewis.
2. Sustainability. More and more consumers are placing a priority on being better stewards of the environment—and retailers are responding. Among the "countless examples" coming out of Europe, O'Leary says Ahold Delhaize is at the forefront of sustainability initiatives.
Under the supermarket giant's Albert Heijn banner in the Netherlands, for example, the retailer's "AH Packaging Free" initiative empowers customers to purchase more package-free products with the help of smart dispensers containing products that can go into reusable containers.
This fits with Albert Heijn's goal of reducing packaging by 20 million kilograms by 2025.
Be sure to check out Sustainability in Retail: Doing Right by the Environment AND Your Customers for more information on this topic. And if you'd like to take a deep dive into bulk foods, see Bulk Foods Department 2.0: Tips to Increase Sales and Attract a New Generation of Shoppers.
3. Checkout transformation. Efforts to reduce friction at the checkout are creating a number of tech-driven developments, says O'Leary.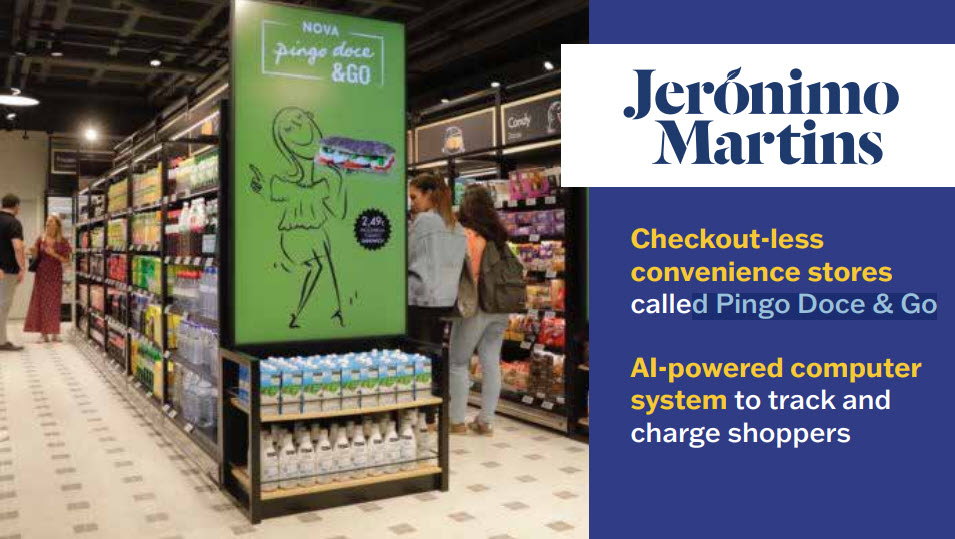 Portugal-based Geronimo Martins and its Pingo Doce brand, for instance, has developed a checkout-free store model, Pingo Doce & Go. These convenience stores utilize an AI-powered computer vision system to track and charge shoppers. (If you're interested in more details on c-stores in particular, see Convenience Store Industry Analysis: What C-Stores Are Doing to Excel in the Grocery Sector.)
For related information on retail trends in general, take a look at 2022 Retail Trends for Brick-and-Mortar Stores: Removing Friction and Inviting Digital Engagement.
Refurbishment Implications: An Exciting Future for Retail
You've just gotten a glimpse of the many ways retailers around the world are refurbishing their stores. But what are the larger implications?
O'Leary says the investment that retailers are making in refurbishments is just one more indicator of an exciting future for brick-and-mortar retail.
"The physical store is certainly not dead; it's just being reimagined," says O'Leary. "We expect retailers to continue to transition [this] asset to be better prepared for the future consumer."
Learn more about how these retail solutions can work for you.
Share This